The question I most frequently encounter as an Integrative Health Coach is "What is the best way for me to lose weight?"  First time someone asked, I slipped back to my old way of thinking, as a personal trainer and exercise physiologist.  There is nothing wrong with that thought process.  That knowledge and experience is a huge part of me.  As a Health & Wellness Coach, I offer additional knowledge and skills to support a client through health behavior change.  Weight loss is not simply 3-5 days a week of aerobic activity in your target heart range plus resistance training and eating healthier.  If your old approach is not creating the results you desire, maybe it is time for a new approach.  Go bigger than exercise and eating.  Explore all of you!  Step back from your goal of weight loss and shift your perspective.  Explore all aspects of your Health + Happiness.
Broadening Your Weight Loss Program Perspective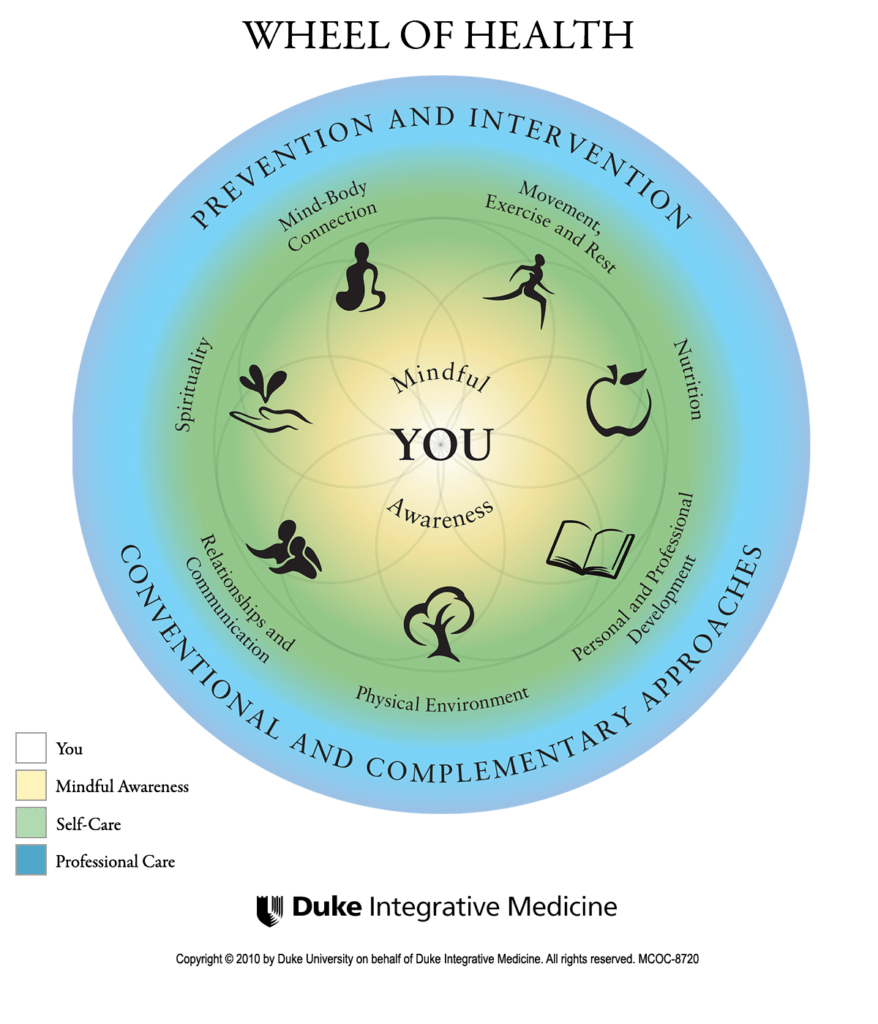 There are many options for wheels of health, wellness, nutrition, life, etc.  Duke Integrative Medicine's model places you at the center and surrounding you is mindful awareness.  A powerful combination!  If you are not paying attention to you, your habits, your health, your decisions and outcomes, etc. then your ability to successfully make valuable and sustainable change is like throwing darts in the dark.   You may never hit your target.  Outside of you and mindful awareness are seven areas of self-care and then prevention and intervention with conventional and complementary approaches.
Assessing where you are on the Wheel of Health is personal.  How you and someone else define and/or rate the importance of areas of self-care may be very different.  That's okay.  What is important when taking control of your whole person health is you!  Exploring the Wheel of Health gives you a wealth of information and is very powerful as you make decisions for change.  How do you currently describe your health?  How would you like it to be?  Which areas of health are your strongest?  How can those strengths support areas you would like to make change?  To examine your health on the Wheel of Health, check out our online Health + Happiness Inventory.  The amount of time required to complete the Inventory depends on how much effort you put into it.  It's an interesting way to take a fresh look at your health.  No cost involved.   Each area on the Wheel of Health is its own separate inventory.  Check out what makes sense for you.
"What's The Best Way For Me To Lose Weight?"
Back to the original question. If you are stuck with your weight then a new approach may uncover new or competing  priorities.  Step back and look at you as more than your weight.  Look at your whole health picture.  What worked ten years ago may not be the solution today.
Client Example #1
A potential client approached me stating she wanted to lose weight.  She had been overweight several years.  She felt stuck in her daily routine.  After completing the Inventory and looking at the big picture she confirmed that yes, weight loss was needed but more importantly she wanted to improve her overall health.  She knew she needed to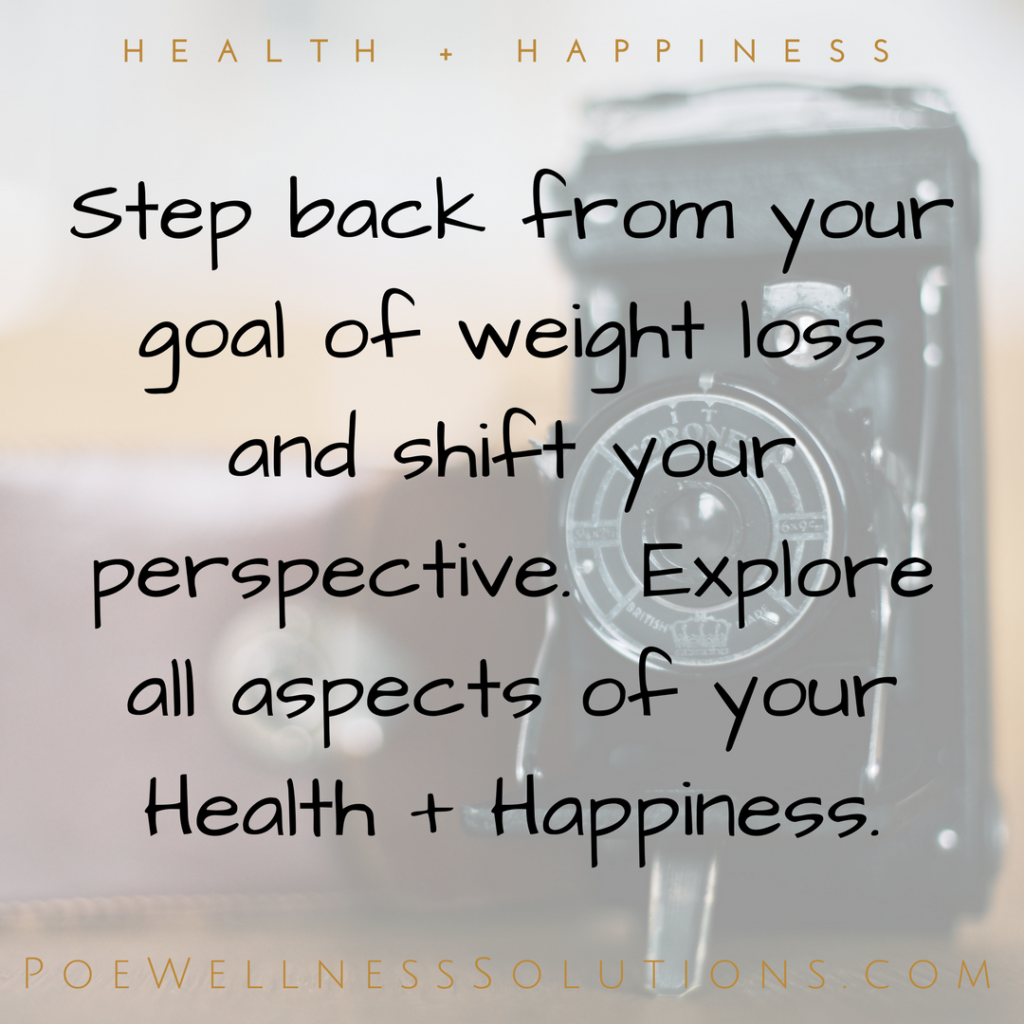 get active but first she had to work on motivation and confidence to get out the front door.  She found that lately her exercise attempts typically resulted in injury.  It had been years since a structured exercise plan and she was dreading returning to the gym.  We looked at other areas of her life and investigated where she was strong.  What supported her in those areas?  How could she apply those same supports and build her motivation to get moving in a smart and safe way with confidence and without injury?  She started small and did not immediately tackle the gym.   In the areas of the Wheel of Health in which she was strongest, she benefited from the support of family and friends.  She included a few of them in her new health ventures.  Another key to her successes was having fun.  As we worked together, she continued to keep it fun.  Letting go of the seriousness and pressure of a structured exercise program for weight loss allowed her to enjoy her activity, have fun and maintain her new more active way of life.  She incorporated people that supported her.  With small steps she experienced one success after another.  There were bumps along the way but those bumps became adventures and were opportunities to learn.  Did she lose weight? Yes!  Healthier?  Yes!  Currently, we are not working together but we did create a partnership that I believe will last forever.  Last time we checked-in, she is having fun, regularly working out in the gym, continuing to enjoy the support of her friends and family and now provides support for others to succeed in their journey for greater health and happiness.
Client Example #2
Another client struggling with weight loss was skeptical about stepping back and changing her perspective.  After discussion and completing the Inventory, she realized that the competing priority of her finances was preventing her from success in many aspects of her life.  After creating a budget and finding success with taking steps to manage finances, her stress reduced, confidence built and health improved.  She was surprised to lose a bit of weight.  While focusing on other areas of her health (finances),  her activity level and diet improved, stress decreased and sleep became more consistent.  This was a great boost to her confidence and energy level and she was excited to move forward with her weight loss.
Is It Really That Easy?
The process is pretty simple but the work … that's on you.  Creating a strong foundation that has true value in your life is a huge help.  Knowing where you are, what you want and why you want it, assists in making change. Typically, weight loss is not easy and maintaining it is an even greater challenge.  The examples above sound easy.  Clients often struggle to step back and change perspective. Weight loss research is abundant and findings often contradictory.  You are not that journal article or Facebook post.  It's easy to get lost in all the chatter.  There are many aspects to you.  Explore them.  Some people begin exercising and explain, "I just did it!"  They didn't make any change in behavior.   They are "just doing it".   That can be the solution but often times those people suddenly "don't do it".  Sustainable change takes time … baby steps … learning.
How Does This Apply To You?
I believe this applies to everyone no matter what your health challenge.  Take ownership of you and your health behaviors.  Get to know you better.  Ask yourself questions.  Take a new look at your health habits.  Most likely your day is full.  If you plan to make change, to add activity, what will you give up?  Lots to learn about you and how you will find success!  Make your health a priority, not an afterthought.
How Can Poe Wellness Solutions Help?
Our goal is to help you find Health + Happiness.  Here are a few options to get started.
Visit our website and learn more about Health Coaching.
Check out the FREE Health + Happiness Inventory.
Schedule a FREE Discovery Call.  We are happy to answer questions or offer a mini-coaching experience.
Slow down the chatter in your mind.  Attend our FREE Wake Up To Your Life Webinar.
 Learn more about the Poe Wellness Solution perspective on our blog.
Leave a comment or scroll to the bottom of this post and send us a private note.
Summing It Up
So, did you find the answer to your question?  We hope so.  At Poe Wellness Solutions, we believe the best way for you to lose weight is to explore all of you.  Step back from your goal of weight loss and shift your perspective.  Explore all aspects of your Health + Happiness.  You are more than your weight and your weight is more than exercise and eating.  We are partnering with individuals and celebrating in their success everyday.