Here are things you can do right now to start your Health + Happiness journey!
Meet Meg Poe, the Coaching Yogi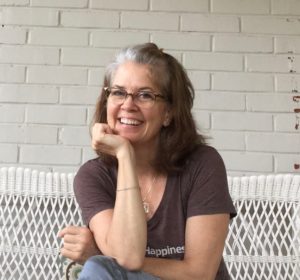 It was 2001 when I first heard about "life coaching." I did a little research but it was not quite the right fit. In 2012, I discovered the Integrative Health Coaching program at Duke. The more I learned, the more I believed I had found the perfect next step for my Health + Happiness journey and my desire to add value and quality to my life.
Attending the training at Duke Integrative Medicine was life-changing. Not only have I had the honor of coaching people through change and toward their optimal health vision, but I experienced the gift of being coached myself.
My passion for health of mind and body plus years of yoga practice and health coaching experience became tools for developing the process for transforming stuckness into stickiness. I am no longer held prisoner by my goals. Yes, I have goals, but they are no longer my driving force. My goals are the milestones along the way. Now I have a bigger picture in mind—a vision that matters to me. A purpose. A passion. It took time to create and it needs tending to. My vision provides direction and motivation, a stickiness that keeps me on track. I experience success. I fall short. I learn. I keep moving. I am not stuck on the achievement of my goals but instead motivated by the stickiness of the bigger picture, passion and purpose of my life.
In 2015, I completed the Integrative Health Coach training at Duke Integrative Medicine and began working on the 300 hour Advanced Studies yoga teacher training at Asheville Yoga Center. Research that is focused on the connection between the mind and body and the need for changes in our health behaviors is abundant. Poe Wellness Solutions was born out of the idea—and research!— that shows we can achieve Health + Happiness when we focus on creating personal, meaningful and sustainable behavior changes.
Everywhere I look there are opportunities to add value, to make magic and to partner with amazing people. I created Poe Wellness Solutions to form valuable Partnerships with my clients, Optimize their pursuits for self-discovery, and Empower their goals for Health + Happiness.
If you have never thought about your optimal vision of health, what are you waiting for? Let's do it now!
The importance of finding Health + Happiness
Your Health + Happiness is the key to supporting your best self. It is time to get in the driver's seat. Where are you starting? Where do you want to be? What's holding you back from achieving your optimal Health + Happiness? Don't wait until you are sick or sad to focus on your Health + Happiness. Be proactive and partner with a health coach to find out what really, truly makes you happy and healthy. Explore the Health + Happiness Inventory and begin taking charge of your health today! 
RYT-500, Advanced Studies Certification, Asheville Yoga Center, Asheville NC, 2018
National Board Certified Health and Wellness Coach (NBC-HWC), National Board of Medical Examiners, 2017
Integrative Health Coach, Duke Integrative Medicine, Duke University, 2016
RYT-200, MindBody Centering Yoga Therapy Teacher, Nina Be, Durham NC, 2014
Advanced Mat Pilates Instructor, Pilates of NC, 2010
Basic Mat Pilates Instructor, Pilates of NC, 2009
MA, Experimental Psychology, Towson University, Towson MD, 2001
MA, Exercise Physiology, University of North Carolina at Chapel Hill, Chapel Hill NC, 1993
BA, Psychology, University of North Carolina at Chapel Hill, Chapel Hill NC, 1991
BA, Physical Education, University of North Carolina at Chapel Hill, Chapel Hill NC, 1991
Yoga for Chronic Pain, Libby Hensley, Asheville Yoga Center, Asheville NC, November 2017
Mindfulness Leadership Training ~ Search Inside Yourself, Search Inside Yourself Leadership Institute, Google, Fort Mill SC, September 2017
Yoga and Cancer, Sara LaStella, Asheville Yoga Center, Asheville NC, August 2017
Colloquium on Interdisciplinary Rehabilitation Care for Parkinson's Disease: Building Your Team, Enhancing Your Care, Wake AHEC and UNC Neurology's Movement Disorders Center, Raleigh NC, June 2017
Yoga ~ Hands on Assists, Shala Worsley, Asheville Yoga Center, Asheville NC, April 2017
Integrative Health Coach Professional Training: Certification Course, Duke Integrative Medicine, Duke University, 2016
Flow and Yin – 5 Day Immersion, Kimberly Puryear, Asheville Yoga Center, Asheville NC, October 2016
Restorative Yoga, Sara Levine, Asheville Yoga Center, Asheville NC, July 2016
Meditation and Yoga, Kimerly Puryear, Asheville Yoga Center, Asheville NC, March 2016
Integrative Health Coach Professional Training: Foundations Course, Duke Integrative Medicine, Duke University, 2015
Yoga ~ Breathing and Anatomy, Leslie Kaminoff, Asheville Yoga Center, Asheville NC, October 2015
Yoga and Therapeutics, Joe Taft, Asheville Yoga Center, Asheville NC, May 2015
Yin Yoga, Shala Worsley, Asheville Yoga Center, Asheville NC, January 2015
MindBody Centering Yoga Therapy Teacher Training, Nina Be, Durham NC, 2014
Advanced Mat Pilates, 2010
Basic Mat Pilates, Pilates of NC, 2009
Pilates, Fitour Primary Pilates, 2004
Wellness Program Research, Planning, Development, & Leadership, Health Education, Lecturer, Group Fitness Instructor, Health & Wellness Writer, Cardiac Rehab & Adult Fitness, Physical Trainer, Behavior Modification Specialist – Hospital, University, Government Agency, Community College, Police Department, Continuing Care Retirement Community, Fitness Centers, Yoga Studios, 1990-Present
Program & Project Management, Training & Development, Process Development & Improvement, Leadership & Strategic Development, Change Management – Global Clinical Research Industry, 2001-2014