Why Practice Yoga at Yonder?
Yoga at Yonder is an opportunity to practice yoga with no pressure.  Our goal is to provide a comfortable space to discover your yoga practice.  Ideally, you learn a bit about yourself through movement, breath and mindfulness.  Class is great for beginners but that doesn't mean it's easy.  Hopefully, you wake up a few muscles, challenge your strength, flexibility and balance, explore a bit of mindfulness and relaxation, make new friends, laugh a little, enjoy a beverage, surprise yourself and discover something new.
Benefits
Benefits of a yoga practice vary as much as the people attending class.  This is a list of common benefits of a regular yoga practice.  Check out the What People Are Saying section and learn more.
improve sleep
strengthen core muscles
reduce depression symptoms
help manage stress
improve relaxation
improve balance
reduce body aches and pain
improve health & wellbeing
increase body awareness
improve posture
more positive outlook
connect
have fun
How have you benefited from Yoga at Yonder?
POE YAY
Yoga at Yonder is something new and different for Poe Wellness Solutions.  After 16 months of teaching classes via Zoom, my personal yoga practice has taken a few twists and turns.  Sheltering-in-place, teaching in an empty room, imagining the people I know so well on their mats, offering cues I think they may need and spending a lot of time alone ... Yes, lots of changes.  Anyone that has not changed the last year plus, well, they have not been paying attention.  I realize more than ever the value of connection.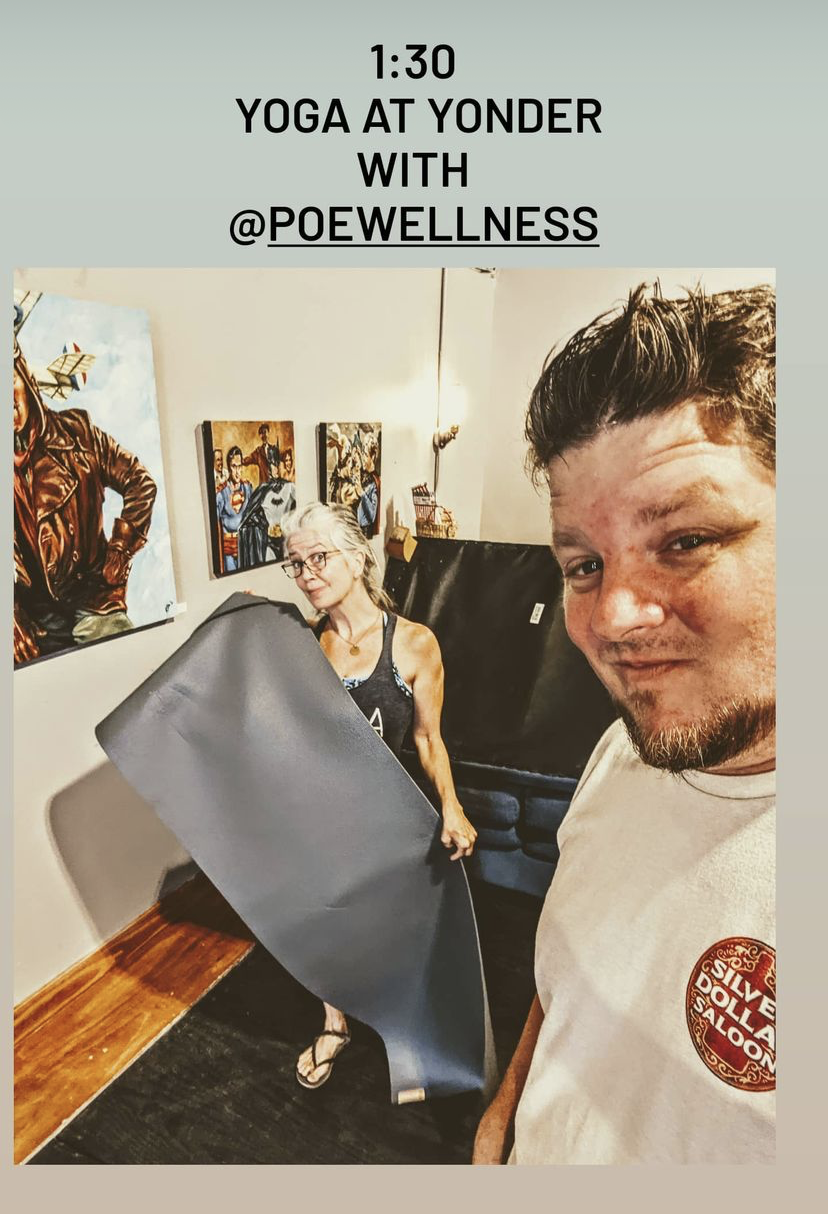 Did you know that the word "yoga" is derived from the Sanskrit root "yuj" which means "to join", "to yoke" or "to unite"?  Yoga is all about connection and connection is all about yoga.  Yoga at Yonder builds connection every class - community, friendship, movement, breath, body, mindfulness, support... Together we practice on our mats what we take out into the world!
The changes in my practice, I think they are an improvement in my life both on and off my mat.  I hope you will as well.  Excited to connect with you soon.  YAY! ~ Meg
Check out Meg's full schedule.
What to Expect
Join Eryk and Meg for yoga and mimosas.  This class is designed to be fun for the inflexible and challenging enough for the hardcore. Whatever your skill level, bring your yoga mat and a great attitude. Leave the rest to us. Your ticket includes 1 hour of yoga and one beverage (mimosa or draft beer).
Space is limited. Click the green button above and reserve your spot!
Things to know ...
Beginning June 2023, join us the 2nd & 4th Sunday of each month, 1:30-2:30 PM.
Bring your own mat.  Need a mat? We typically have a few for purchase ~ $20.
We encourage signing up in advance.  If you don't, space is on a first come, first served basis.
Class begins at 1:30PM!  Please, please, please show up early and get set up!!
Got questions? Send Meg an email ~ meg@PoeWellnessSolutions.com
Check out other great events at Yonder Southern Cocktails and Brew!
What Are People Saying?
Thanks for teaching a great class! Such great energy in the room!  ~ SP
Exercise should be challenging and fun if you want it to become part of your everyday life.  Yoga at Yonder ticks all the boxes with Meg's great yoga instruction/humorous commentary and Eryk and Lana's delicious adult beverages! ~ MF
I had no idea what to expect because I am not experienced with yoga, but Meg immediately made me feel comfortable and in no time I felt like an old pro. I can't wait for the next class.  ~ EP
I have enjoyed your classes at Yonder so much! It's a great space, and Eryk and Lana make sure everything is just right!  Love your teaching style which is great for a multi level class, and you make it all fun, along with a good workout! And Eryk's playlist makes it all flow. Thank you all for this special class! And the drinks!!♡♡ ~ DB