Whenever I tell someone I own my own business, they comment how wonderfully exciting that must be. I tell them I am an Integrative Health Coach and a puzzled look arises. When I explain that I partner with clients to discover, define and achieve greater health + happiness, of course, a captive audience emerges.
What Is An Integrative Health Coach?
An Integrative Health Coach is an expert in behavior change.  As your coach, I partner with you, the client, to discover, define, and achieve greater health + happiness.  (NOTE:  I cannot keep up with the multiple terms for an Integrative/Wellness/Health Coach.  For this article, we will use "Health Coach".)
Who Should Work With A Health Coach?
Anyone interested in being an active participant in their health + happiness benefits from working with a health coach.  Maybe your doctor has recommended it or your family is urging you to be healthier but most importantly, you are ready for change.  You are ready to take control of your life, your actions, and your habits.  It is time to be empowered and in control of your health + happiness.
What Does A Health Coach Do?
Duke Integrative Medicine states "Integrative Health Coaching empowers clients to make lasting health behavior changes that are the cornerstones of lifelong well-being".  In addition, the National Board for Health & Wellness Coaching states, "Health and Wellness Coaches partner with clients seeking self-directed, lasting changes, aligned with their values, which promote health and wellness and, thereby, enhance well-being."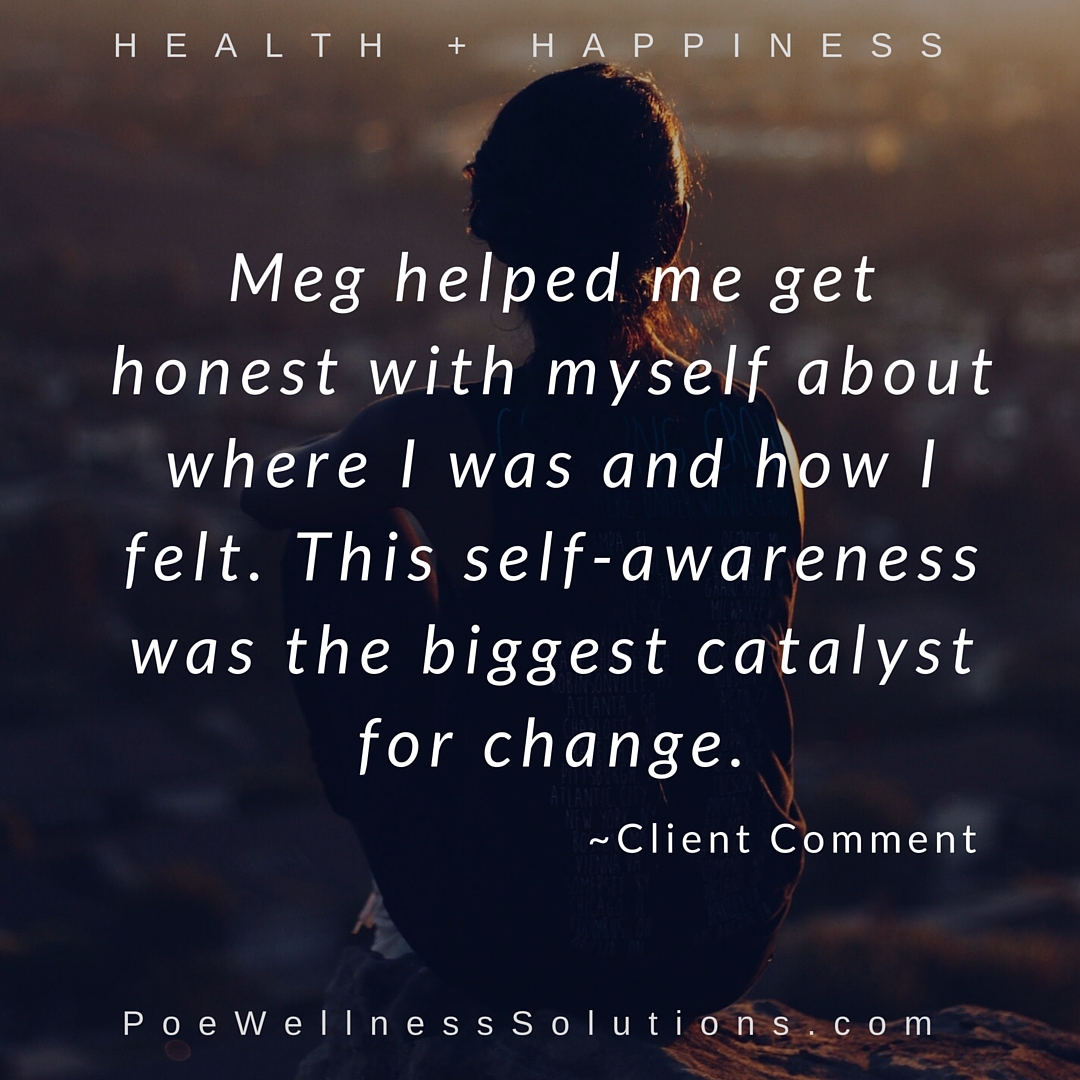 As your Health Coach, I ask questions, I pay attention, I listen, and I ask more questions.  One of my clients refers to it as me asking "Meg Questions".  These questions allow her to look at her life from a different perspective.  Kind of like changing the lens on a camera or filter on a picture … you are still looking at your life but you experience "Aha" moments by having a new awareness.  We brainstorm when searching for ideas.  Also, I can provide resources.  Together, we create a partnership.  In addition, as your health coach, I celebrate successes with you and assist you in learning lessons when you don't quite meet the actions you set from week to week.
How Does It Work?
You and I form a partnership because you have identified a desire for growth.  We step back from the day-to-day routine and take a look at the big picture of your health + happiness.  In additions, we review your health behaviors and lifestyle choices through a new lens, from a different perspective.  I ask lots of questions. You discover your passions, create a vision of your optimal health and consider your values.  We explore changes you want to make.  What is ideal?  Where are you now?  Who are you once you make change?  What's in your way of becoming "You 2.0"?  We work together to create a plan that works with your lifestyle, your obstacles, and your values.  Most importantly, empower you to achieve greater health + happiness.  
Where Do We Meet?
Most coaching visits are conducted via phone from the comfort of your home or convenience of your work place.  Therefore, no need to get in the car, fight traffic or search for parking.  Simply pick up of the phone.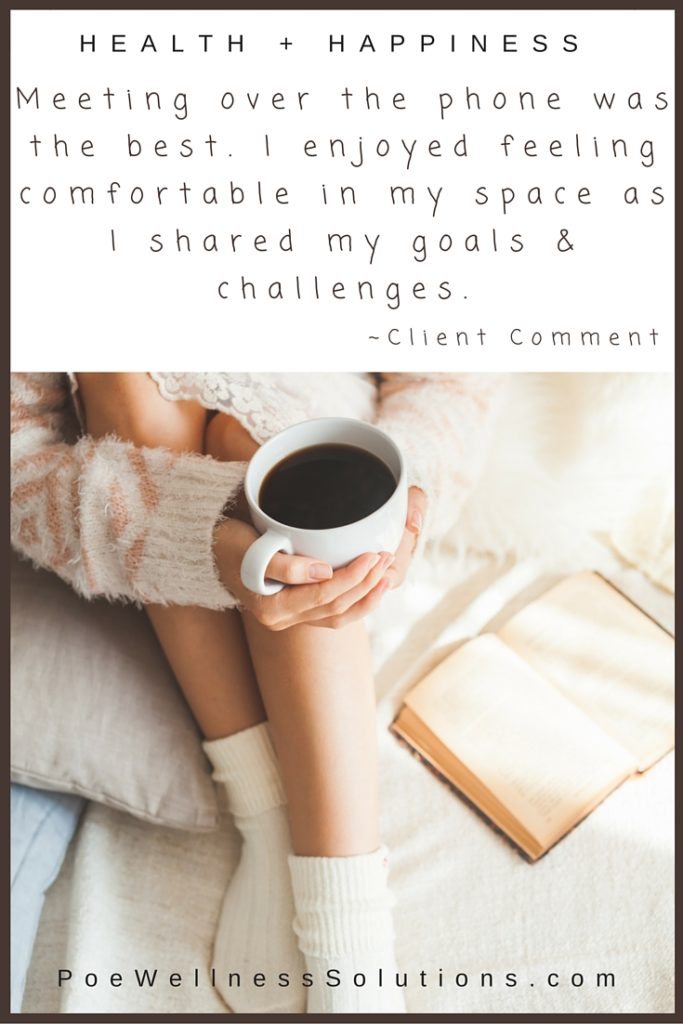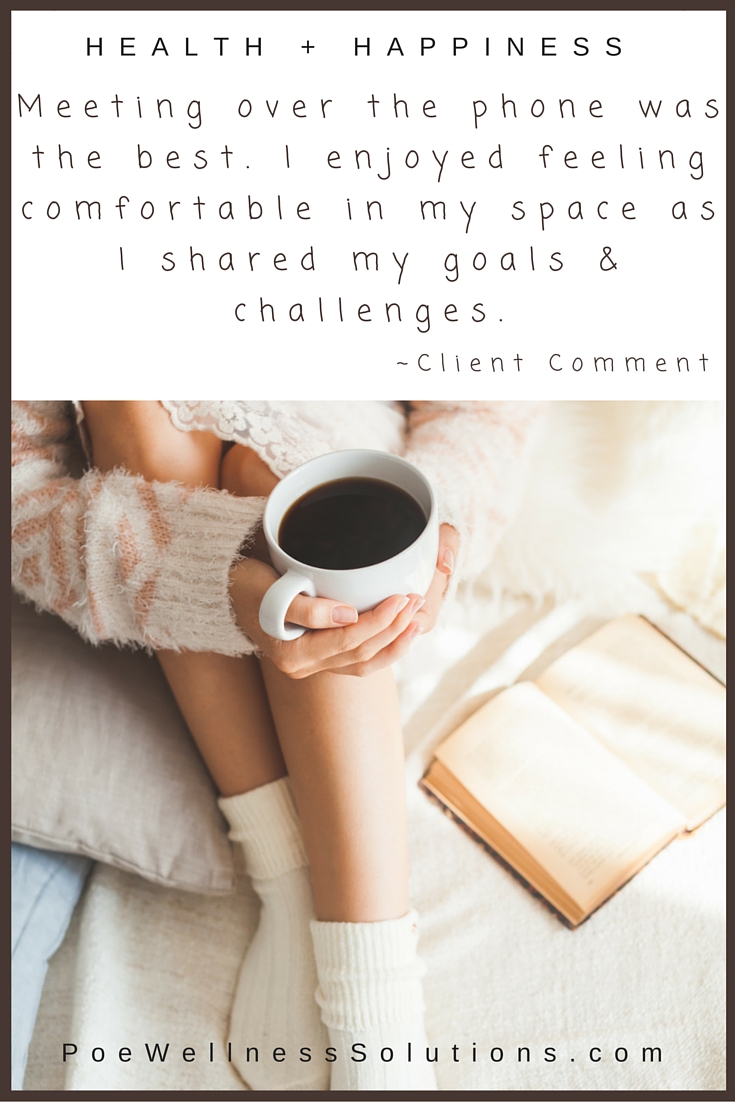 What Do You Do?
You do all the work.  A strong commitment to stick with the process is critical.  You have to be super honest.  Not that you would lie but you have to be honest with yourself about what is important to you and be certain you are working towards your vision and not what you think you should do or what someone else expects.  That can be very challenging.
Most of us are going through the motions of our day and our routines. We don't pay attention to our choices and the decisions we make. Change requires Waking Up To Your Life — paying attention to your day and being aware of your actions.  You have to be super honest with yourself and your coach.  Between visits, you stay focused on your actions. You stay accountable.
As you experience success, you celebrate.
You do not beat yourself up when you don't meet your actions.  As much as it is a great feeling to succeed, the amount of learning and recalibrating of actions that occurs when you hit those bumps along they way … that is what coaching and behavior change is all about.
You stay honest and open to learning.
What Changes Could You Tackle?
If any of the statements below apply, you may benefit from working with POE Wellness Solutions.
I would like to …
Increase my activity level
Eat healthier
Lower my blood pressure
Feel more relaxed
Figure out what I want to do with my life
Find more time to do things I enjoy
Reduce the clutter in my home
Take control of my life
Get unstuck
Have more confidence
Feel more empowered
Have more energy
Find more time for friends and family
Find more time for me
Create greater happiness
Make changes recommended by my doctor
Break my routines
Make change in my life
Put down my phone
How Do You Get Started?
Easy!  Click here and schedule a Discovery Call.   Let's talk about the growth or change you would like to create and determine if a partnership would make sense.  This is the moment to begin!!  Check out Considerations for Selecting Your Health Coach.  
Summing It Up
It's no secret, behavior change is a challenge.  Basically, it requires a "rewiring" in the brain.  It is possible and stories of success appear everyday.  Partnering with a Health Coach is hiring a behavior change expert, a process improvement specialist, an accountability partner.  How do you achieve greater health 
+ happiness with a Poe Wellness Solutions?
Contact us today.  Determine if we are a good fit.
Create a partnership.
Get committed.
Establish a vision of how you want your life to be.
Know what is important to you.
Be honest with yourself.
Be a good listener.
Answer questions.
Pay attention to your life, your choices, your decisions.
Celebrate successes.
Learn from challenges.
Trust the process.
What change would you like to begin making today?  What would you like to know about partnering with a Poe Wellness Solutions? Share your questions below.  Love to hear from you.