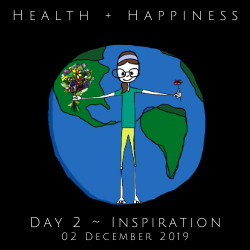 Welcome to Day 2!

Goal: Send 2 Goodwill Wishes
Our challenge is based on Loving Kindness Meditation.  We are taking a simplified approach.  Offer your thoughts of Health + Happiness on the run, standing in line, sitting at your desk, during meditation, as a prayer, etc.  Do what works for you!
Check out this great conversation between Dan Harris and Sharon Salzberg providing a better understanding of our challenge and practicing Loving Kindness.  Learn about the scientific and experience based benefits.  They even state, "It can make you healthier and happier."  It's less than 7 minutes and well worth it!
Did you join The Challenge late?  No worries.  All Daily Inspirations are available here. 
Got Questions or suggestions to help others?  Contact me or type a Comment below!!!  Let's Inspire Health + Happiness Around the World this December.