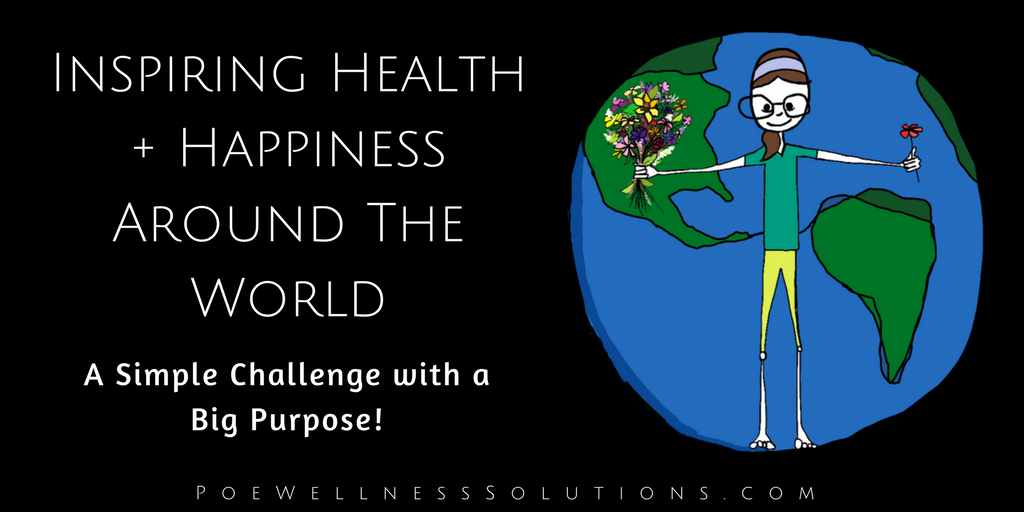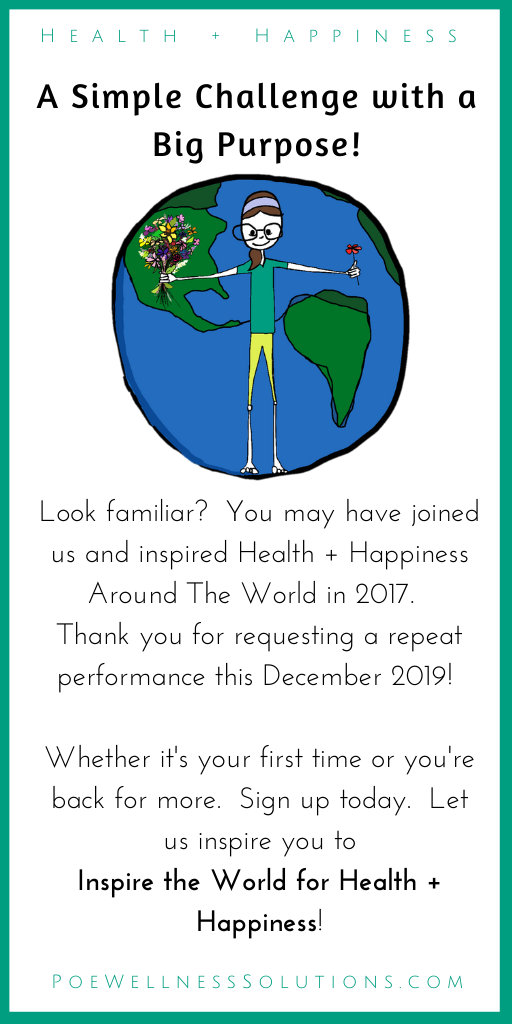 Could a single thought make a difference in the world? A difference in your life? In your day? In this moment?
Based on personal experiences, many people would respond Yes, Yes, Yes and Yes. They share stories when an attitude of compassion or thoughts of goodwill changed their life. Scientific research supports that practicing compassion meditation changes the brain, improves the ability to manage stress and strengthens skills in empathy. A study with preschoolers found that children are more likely to share their stickers when practicing compassion meditation. And meditation is not required to benefit! With small acts of kindness, brain scans register what neuroscientists refer to as "the warm glow effect". Maybe we should call this the Warm Glow Challenge.
Sign up below to get daily challenge inspiration!
The Purpose (Why do you do this?)
This is BIG!
#1 – Inspire Health + Happiness Around the World with a single thought.
#2 – Add moments of positivity and joy into your day.
#3 – Experience the power of joining a global community for world health + happiness.
#4 – Explore the stress reducing benefits of compassionate thoughts.
#5 – Experiment with small actions creating a big impact.
The Challenge (What do you do?)
This is SIMPLE!
Offer thoughts

of

health + happiness

to

someone

every day in December

.
"Offer thoughts"? ~ You do not have to say these thoughts out loud. Simply think/offer/wish them to someone.
"Health + Happiness"? ~ You do not have to specifically send "health" or "happiness". What would you prefer to send? I like to switch it up.

"May you be happy."
"May you be well."
"May you have peace."
"May you be joyful."
"May your day be the best."
"Someone"? ~ It can be anyone.

Person in the car beside you.
Person you bump into on the subway.
A colleague in your office, on the phone or in another country.
Your yoga instructor.
Your best friend.
Your cat.
Yourself!
"Every day in December"? ~ Each day you include an additional thought/offer/wish of goodness.

01 December – 1 thought/offer/wish
02 December – 2 thoughts/offers/wishes
03 December – 3 thoughts/offers/wishes
…
15 December – 15 thoughts/offers/wishes
16 December – 16 thoughts/offers/wishes
…
30 December – 30 thoughts/offers/wishes
31 December – 31 thoughts/offers/wishes
The Participants (Who does it?)
This is YOU!
You! Invite your friends. Make it a family, work or class activity.
Tips For Sharing
Email or text. Include this link ~ http://bit.ly/Inspire_the_World-2019 and share The Challenge.
Click the Share buttons below and post on Facebook or Twitter.
The Support (How is it done?)
This is Poe Wellness Solutions!
From 01 December until 31 December receive inspiration from Poe Wellness Solutions & Friends.
Option 1 ~ An email appears in your inbox each day. To receive the email, sign up below. (Don't want to share your email address? No worries, we still want you to participate. See Option 2 & 3.)
Summing It Up
Inspire Health + Happiness Around the World is a simple, 31-day challenge with a big purpose. On December 1st, you think/offer/wish thoughts of goodness to 1 person. Each day you add an additional wish of goodness. (NOTE: You do not have to know or be with the person you are sending the well wishes. It truly is a thought.) On the final day of the month you send 31 thoughts/wishes/offerings of wellness. (NOTE: It doesn't have to be 31 different people. If you send 31 wishes to the same person, you succeed!) Support is offered every day of December. Inspiration arrives in your inbox if you sign up for the challenge or you can visit Poe Wellness Solutions or Facebook and find the same inspiration.
Got Questions? Contact me directly or post a public note below!!! Let's Inspire Health + Happiness Around the World this December.