Crazy times call for crazy actions. Since you are visiting this page, I guess that you are stuck at home and want to keep moving when you can't make it to class. These videos are our response to the temporary closure of ADF's Samuel H. Scripps Studios in Durham NC due to the Coronavirus. We hope to help you keep moving at home.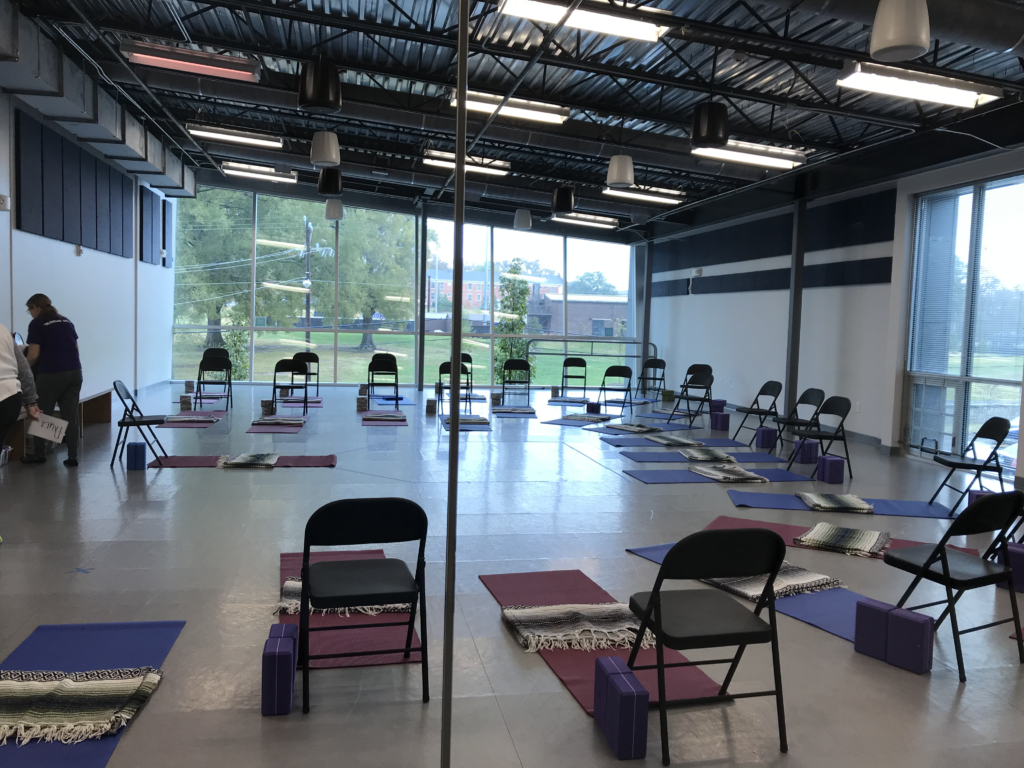 My name is Meg Poe and I offer Pilates for Parkinson's classes two times per week as part of the Parkinson's Movement Initiative (PMI). The PMI is a program funded by a community grant from the Parkinson's Foundation.
The Pilates for Parkinson's classes consists of movement while seated in a chair, standing using a chair or wall for support and seated on the floor. So yes, we move. And we do so much more. We are a community that provides support, celebrates successes and acknowledges challenges. We have a great time. It is sad to not meet as a group and yet I am incredibly excited to offer exercise at home.
These are my first ever exercise videos. They were created without much planning, in a single sitting, by my friend Sarah with an iPad. Thank you Sis! My goal is to provide familiar movement to the people that attend class regularly. I hope you enjoy. Please share with anyone you think may benefit from this style of movement. I appreciate any feedback. It would be wonderful if we could continue to support each other here and on the videos. We love comments!
New videos are added regularly. Check the YouTube Channel for most current selection ~ Click here.
In The Chair
Standing Balance
On The Floor
Be Smart While Exercising
I was advised to include a disclaimer on each video. Which I have done. Most importantly I want you to remember to pay attention to your body while moving. It is great to move and to challenge yourself but be smart.
A few tips …
Exercise with a friend. If you do not have someone to join you, at least let someone know that you are exercising and when you are finished.
Set up an area that gives you plenty of space. Limit unnecessary tripping hazards.
Use a chair that is very stable.
Listen to your body. It's giving you tons of information. Pay attention!
If something hurts … STOP! Challenge yourself but don't over do it.
If you have other tips, add in the Comments below.
Summing It Up
No matter who you are it is always important to create movement in your day. Finding the right movement for you can be a challenge. These videos are developed in response to the closing of our studio due to the Coronavirus. Great things can come out of challenging times. Pilates for Parkinson's is designed for people with Parkinson's and can be enjoyed by everyone. Hopefully these videos keep you moving when you can't make it to class or maybe they help you find movement that you've needed and did not know you could do.
Please let us know what you think. Moving at home does not offer the amazing benefit of community. Type a note in the comments below and let's support each other!