Would healthier eating and cooking at home improve your Health + Happiness?  It is a constant struggle for me.  Check us out each week for our at home cooking adventures.  Recipes are rated on Yumminess, Healthiness, Complexity, Prep Time, Overall and anything else that makes sense.  
This Week's Recipe – Italian Blue Salad with Apricot Dressing
Trial and Eater provides this week's recipe ~ Italian Blue Salad with Apricot Dressing.
Trial and Eater is may favorite go to for good, quick and easy to make dishes.  She may have more complex recipes but I know what I am looking for and I can always find it from Trial and Eater.
The "Yikes"
Not a single Yikes.  As I said above, I am good at finding what I want in a recipe.
The "Yays"
I love to eat salad but get stuck in a rut with what I consider the basic salad.  This salad is so simple and fresh.  It's easy to make.  Throwing it all into a pretty blue bowl made it a fancy addition to our meal.  The blueberries and the blue cheese made my mouth happy.   I am a bit of a salad dressing snob and only use homemade.  Even the dressing was easy to make. Yay! Yay! Yay!
Lessons Learned
Great dressings don't have to be complex with lots of ingredients.  The dressing is thick.  I made it in a dressing mixing bottle and it was challenging to pour.  Use a bowl.  You could easily go vegan and leave out the blue cheese (although the blue cheese is pretty amazing)!  We enjoyed this with Grilled Chipotle Lime Cauliflower Steaks and highly recommend the pairing.
Summing It Up
This is a fantastic, easy to make salad.  You could eat it every night but its flavors are impressive enough to share when you want to "wow" your dinner guests.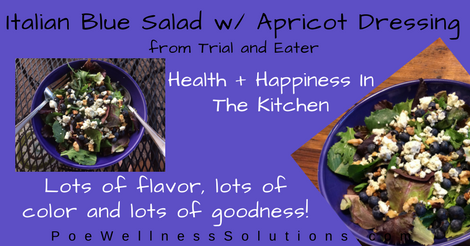 Do you have a recipe to recommend or a story to share?  Send it my way.  I am excited to try to new things and share here weekly(ish).