When:  Tuesday, 19 Sept – Wednesday, 20 September 2017
Where:  Fort Mill, SC
I hate to miss teaching a class but I am super excited to attend the Search Inside Yourself (SIY) program which teaches attention and mindfulness training that build the core emotional intelligence skills needed for effective leadership.
Here are the details of the training.  I look forward to continuing to develop my mindfulness knowledge and providing better classes, webinars, workshops and coaching experiences for you!
---
SEARCH INSIDE YOURSELF presented by the Search Inside Yourself Leadership Institute
Please join the Search Inside Yourself Leadership Institute (SIYLI) in Fort Mill for two days of personal and professional development focused on building healthy mental habits for sustained high performance and wellbeing. Developed at Google and based on the latest in neuroscience research, the Search Inside Yourself (SIY) program teaches attention and mindfulness training that build the core emotional intelligence skills needed for effective leadership.
We help professionals at all levels adapt, management teams evolve and leaders optimize their impact and influence.
Give us your attention for a few days, and we'll show you how to focus it for the rest of your life.
Curriculum
The SIY curriculum includes:
Neuroscience
Mindfulness
Emotional Intelligence
Leadership
We've implemented our programs in dozens of organizations across industries and around the world using highly practical and scientifically proven methods of mental conditioning and attention training that improve overall emotional intelligence and wellbeing, resilience, creativity, communication, productivity and personal and organizational leadership.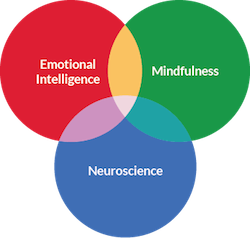 Program Design
Everyone has the capacity to develop and increase wellbeing because wellbeing is a skill, and all skills are trainable.
The highly interactive and experiential program includes the following core components:
Overview of the neuroscience of emotion, perception and behavior change

Definition of emotional intelligence and its personal and professional benefits

Attention training to enable greater emotional intelligence, including self-awareness, self-mastery, motivation and connection with self and others

Principles and practices for developing healthy mental habits that accelerate wellbeing, including effective listening, generosity, empathy, communication and social skills

Mindfulness and reflection practices that support happiness, thriving and overall wellbeing

Exercises include attention training practice, dyad conversations, writing, walking and group conversations
Outcomes
Whether you are coming for personal or professional development or to check out the SIY program for your organization, you will learn foundational skills to:
Enhance mental fitness and clarity

Develop agile and adaptive mindsets

Reduce stress responses

Increase resilience

Improve access to creativity

Develop greater self awareness

Enhance emotion regulation

Improve communication skills

Develop better decision-making skills

Develop greater emotional intelligence

Experience greater overall wellbeing, thrive!
---
Event Follow-up: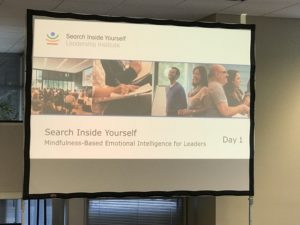 I never register for a training unless I have a huge interest.  Usually, I manage my expectations.  With this course, my expectations were a bit out of control and I am please to announce my expectations were met.  Learning is one of my greatest passions.  In this fabulous course, I experienced great teachers, met amazing people, made new friends and gained confidence in my belief that health coaching not only applies to individuals and groups but it applies to businesses.  Mindfulness and Emotional Intelligence are skills to be practice and learned.  You can grow and develop our leadership abilities and improve the health and happiness of your business.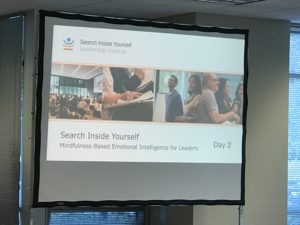 I am honored to have partnered with both individuals and groups for developing business and leadership skills.  This course provides me with reassurance to reach out and partner with businesses to support teams to Wake Up To Your Leader Within.