When:  Friday, 03 November – Sunday, 05 November 2017
Where:  Asheville Yoga Center, Asheville, NC
I hate to miss teaching a class but I am super excited to attend another weekend of Yoga Teacher Training at the Asheville Yoga Center.
Here are the details of the training.  Look forward to continuing to develop my teaching knowledge and developing even better classes for you!
---
YOGA FOR SELF-CARE STRATEGIES AND CHRONIC PAIN @ Asheville Yoga Center, Asheville NC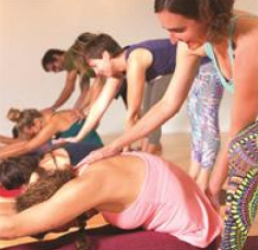 More than a quarter of Americans have chronic pain symptoms lasting for months or years, and over half of these adults do not feel their pain is well-controlled. More of these individuals are turning to yoga to help manage their symptoms. Whether it's chronic low back pain, fibromyalgia, or headaches, the experience of pain can profoundly impact quality of life. Yoga and related practices offer amazing tools to address these issues. Offering the latest evidence based interventions from fields such as yoga, mindfulness, physical therapy, acupressure, nutrition, and health psychology, this weekend will radically expand your ability to manage chronic pain. Whether you or a family member suffers from chronic pain or you'd like to expand your skill set in helping these individuals, this weekend promises to be an endeavor into self-care that is well worth your time.
By attending this weekend training, you will:
Understand what pain is and how the central nervous system responds to chronic pain
Experience 3 practices designed to desensitize the central nervous system through asana, pranayama, and meditation techniques
Get comfortable with techniques for making yoga practices more accessible to those with chronic pain
Learn to use language, sequencing, and assists for an effective yoga practice for people with chronic pain.
Learn simple acupressure and self-massage techniques to address pain
Understand how a variety of lifestyle habits can influence the pain experience
Event Follow-up: 
This was a great one!  Completely sold out.  How awesome that yoga instructors are committed to creating safe classes for all students. Great information about the chronic pain process.  Instructors were fabulous and I am continuing to add great ideas and tools to my teaching tool box. Thinking about offering a 6-week Yoga Series for people with Chronic Pain.  Stay tuned for more information!