When: Friday, 23 June 2017
Where: The Jane S. McKimmon Center, Raleigh, NC
I am both excited and curious to learn for this incredibly knowledgeable team. I look forward to continuing to develop my understanding of Parkinson's Disease.
Here are the details of the training.
---
Colloquium on Interdisciplinary Rehabilitation Care for Parkinson's Disease: Building Your Team, Enhancing Your Care
Join your colleagues to enhance your understanding of Parkinson's disease at this inter-professional education event for healthcare providers, jointly provided by Wake AHEC and UNC Neurology's Movement Disorders Center, a National Parkinson Foundation Center of Excellence. The goal of the conference is to increase access to specialized, high quality care for individuals with Parkinson's across both UNC Hospitals and greater North Carolina.
Audience
Physical Therapists, Physical Therapy Assistants, Occupational Therapists, Occupational Therapy Assistants, Speech Language Pathologists, Speech Language Pathology Assistants and Rehabilitation Administration
Learning Objectives
At the conclusion of this activity, the participant should be able to:
Describe symptoms, diagnostic criteria, evaluation and best care practices for patients with Parkinson's disease in general and for the respective fields of practice.
Review evidence-based treatment options for Parkinson's, including medications, surgical options, exercise and allied health therapies.
Discuss the roles of clinicians from multiple healthcare disciplines in the long-term management of Parkinson's disease.
Engage in interdisciplinary discussion around individualizing treatment plans for patient cases and recognize care priorities to improve patient quality of life.
Increase collaborative efforts between interdisciplinary colleagues and local agencies to build comprehensive care efforts and community resources for Parkinson's.
Identify and validate psychosocial challenges faced by the Parkinson's disease population such as mood issues, care partner stress, support system and role changes.
Identify local, state and national resources available to providers for patient referrals.
This program was made possible from a grant from the National Parkinson Foundation with funds from Moving Day® NC Triangle Walk for Parkinson's.
UNC Neurology Speakers
Bethany Blanchard, MS, OTR/L
Nina Browner, MD
Elizabeth Buxton, PT, DPT
Marie Curtis, MS, OTR/L
Amber DePalma, MA, CCC-SLP
Susan Keiderling, MA, CCC-SLP
Diane Meyer, PT, MSCS
Jessica Shurer, LCSW
---
Event Follow-up: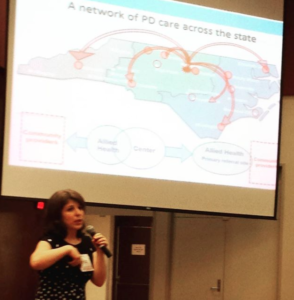 An amazing experience and great way to spend a Friday. Dr. Nina Browner is one of the best and most engaging speakers I have ever experienced. Learning about their interdisciplinary care approach and individualized treatment plans was inspiring. The knowledge I gained increased my enthusiasm for providing movement options for people with Parkinson's. The day included discussions with two people with Parkinson's and one care partner. Their contributions were invaluable and encouraged me to initiate a relationship with UNC Neurology's Movement Disorders Center. Integrative Health Coaching assists patients and care partners as they initiate and maintain challenging health behavior changes.