Would healthier eating and cooking at home improve your Health + Happiness?  It is a constant struggle for me.  Check us out each week for our at home cooking adventures.  Recipes are rated on Yumminess, Healthiness, Complexity, Prep Time, Overall and anything else that makes sense.  
This Week's Recipe –
Creamy Tomato Dill Soup
Foster's Market provides this week's recipe ~ Creamy Tomato Dill Soup.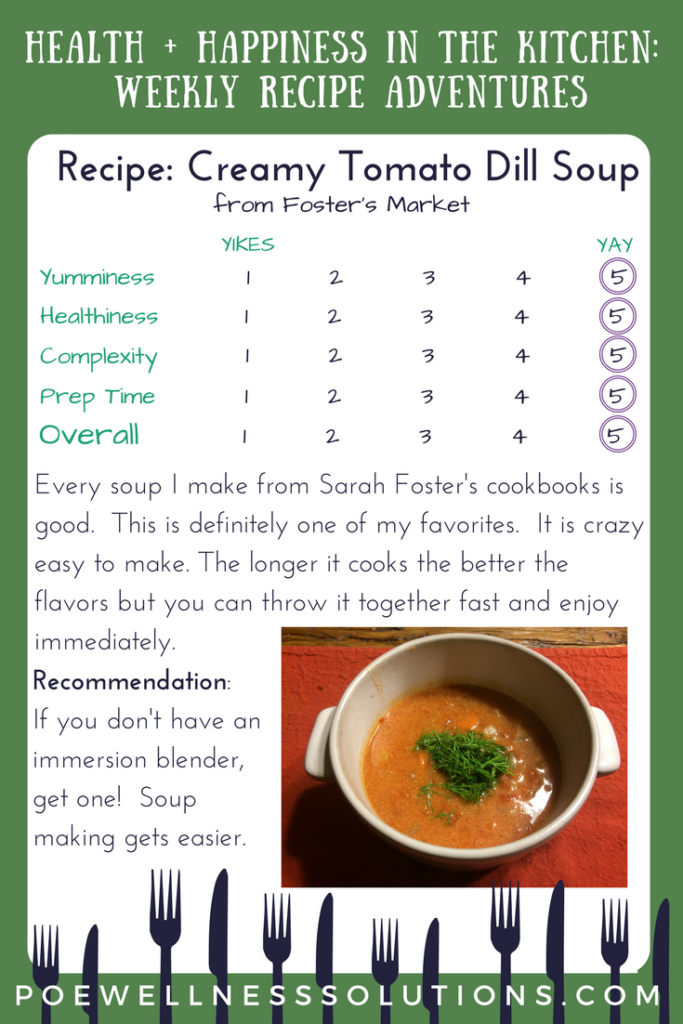 If you live in Durham, you know Foster's Market … salads, sandwiches, soups, scones, biscuits, desserts and on and on … amazing!  I have three of Sarah Foster's cookbooks and never has a recipe let me down.
The "Yikes"
Not a single Yikes.  Seriously!
The "Yays"
Simple and quick to make.  Easy to follow.  All the fresh veggies are beautiful and the canned tomatoes — easy.  Yay, another keeper!
Lessons Learned
The recipe calls for a cup of heavy cream.  The first time I made it, I included the heavy cream to be true to the recipe.  Since then, I leave it out and go vegan.  Great either way.
CAUTION:  If using fire roasted tomatoes and crushed red pepper flakes, be prepared, the heat continued to build when enjoying the leftovers.
I highly recommend this with a grilled Pimiento Cheese sandwich.  Check out another Foster's recipe.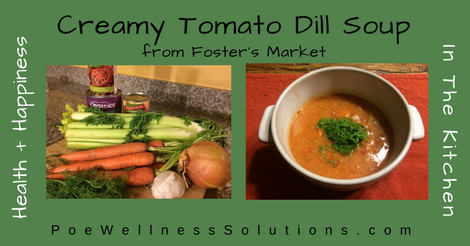 Summing It Up
Again, this is a keeper — quick, easy, yummy and full of flavor.  If you haven't been to Foster's Market, you have to go.  I enjoy checking out the variety of license plate in the parking lot.  Always at least eight different states are visiting.
Do you have a recipe to recommend or a story to share?  Send it my way.  I am excited to try to new things and share here week(ish)ly.