Would healthier eating and cooking at home improve your Health + Happiness?  It is a constant struggle for me.  Check us out each week for our at home cooking adventures.  Recipes are rated on Yumminess, Healthiness, Complexity, Prep Time, Overall and anything else that makes sense.  
This Week's Recipe – Coconut Curry Soup
Thug Kitchen provides this week's recipe ~ Coconut Curry Soup.
Thank you to my neighbors Laurie and Dwight for introducing me to Thug Kitchen.  Love the cookbook (and my neighbors)!   You gotta be ready for no meat, all plant-based diet and "adult language".  If Thug Kitchen were a movie, its rating would be "R".  As the website states, "We're the only website dedicated to verbally abusing you into a healthier diet. That's where the Internet bus driver just dropped your ass off."
The "Yikes"
Not a single Yikes.  Seriously!
The "Yays"
Simple and quick to make.  Easy to follow.  Very pretty!   Great little tips to help you make the best soup possible.  I stuck to the recipe but lots of options with veggies, noodles and spiciness.  House smelled amazing!  Flavors were fantastic.  Great as a leftover.  Yay, another keeper!
Lessons Learned
I am not very good at measuring veggies when I cut them up.  I cut and throw in.  Also, pasta is always a guess for me.  Grab a handful and boil.  So, more broth would have been nice.  But that is my fault, not the recipe's.  I have lots to learn about curry.  Next time will probably be too spicy but I will figure it out with time.  Oh, also, I was unsure about the healthiness of canned coconut milk.  I did a little research.  Here is one of my favorite coconut milk articles if you would like to know more.
Summing It Up
Again, this is a keeper — quick, easy, yummy and full of flexibility.  Since I was heavy on the veggies and noodles, also rather hearty.  There will definitely be more Thug Kitchen recipes coming your way.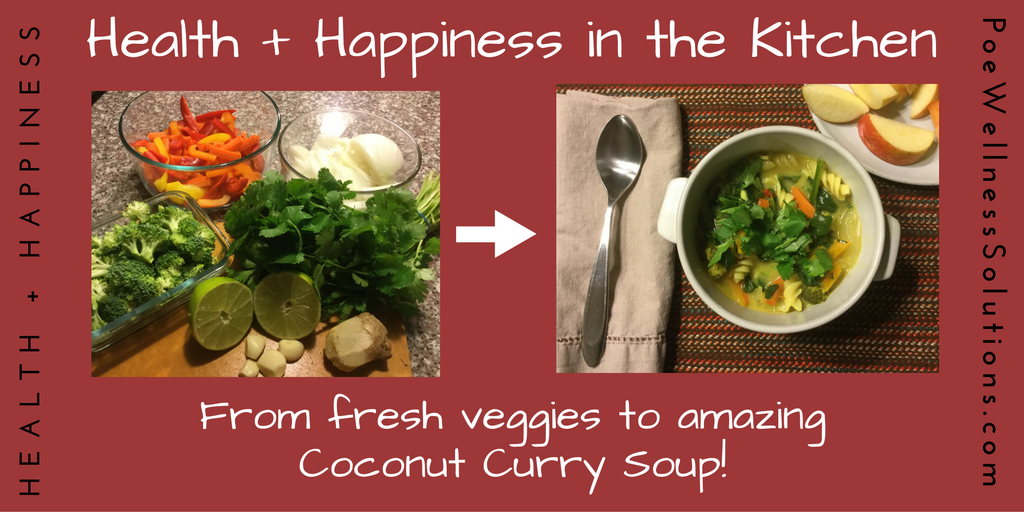 Do you have a recipe to recommend or a story to share?  Send it my way.  I am excited to try to new things and share here each week(ish).