Would healthier eating and cooking at home improve your Health + Happiness?  It is a constant struggle for me.  Check us out each week for our at home cooking adventures.  Recipes are rated on Yumminess, Healthiness, Complexity, Prep Time, Overall and anything else that makes sense.  
This Week's Recipe
Forks Over Knives provides this week's recipe ~ Rice Casserole with Lentils.
It was a rainy, cold Saturday and I decided to fix a warm, comfort food, casserole.  My sister, the most amazing cook, regularly sends me links to vegan recipes.  She is one of those people that finds great joy in fixing a meal.  Eating at her house is better than any restaurant.   She explains that the most important ingredients are "love and goodness".  I was committed to a dinner full of love and goodness.
The "Yikes"
In my mind, a casserole is a one dish meal … easy to fix, quick to clean up and yummy to eat.  Hmm … I learned my lesson.  Wish I had a picture of the preparation process.  Every burner was occupied with a pot or pan.  I used three bowls for mixing.  Oh, don't forget the casserole dish.  A bit more complexity and prep time than I usually spend on a meal.  Also, I struggled a bit with following the recipe but I think that was just me.  It was lots to follow.  Not sure when I started or finished the preparation.  I plan to use a timer for my next recipe.
The "Yays"
Wow! Wow! Wow!  The house smelled fabulous.  Once the casserole was constructed (which was very simple), it cooked 20 minutes.  This was a perfect amount of time to clean the pots, pans, bowls, counters, etc. and have a moment to sip a glass of wine.  The timer went off and I pulled out the most beautiful casserole.  Flavors were amazing!  It is a new, favorite comfort meal for any winter evening.  My husband usually cooks something on the grill to accompany my vegetarian entree but that evening he throughly enjoyed and was filled up with the Rice Casserole with Lentils.  A few more Yays – easy clean up after dinner and a substantial amount of leftovers to heat up for the week.  It was a meal chock-full of love and goodness.  I did it!
Summing It Up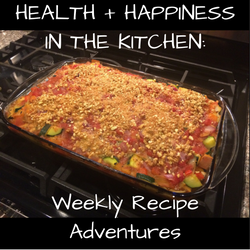 A definite keeper.  Give yourself plenty of time.  If having people over, make it the night before.  Your kitchen will be spotless before guests arrive and after dinner clean up will be minimal.  Also, the recipe recommends to soak the lentils overnight.  I did not read this before staring to make it.  It was not a problem.  Could it be even better?
Do you have a recipe to recommend or a story to share?  Send it my way.  I am excited to try to new things and share here each week(ish).