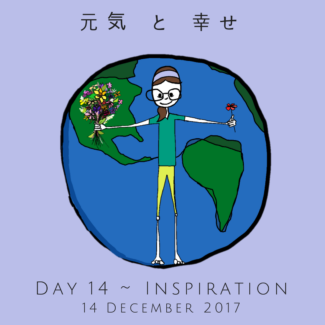 Welcome to Day 14

Goal: Send 14 Goodwill Wishes
One of the greatest reinforcers for maintaining a new behavior (i.e. sending thoughts of health + happiness into the world) is noticing good things in response to your new behavior.  A close second is learning from someone else's experiences.
Today's inspiration is from one of my most favorite bloggers, Lisa Poe and Wild About Books.  Her post The Power of Boundless Compassion provides a beautiful example of how sending good thoughts into the world leads to change.
CAUTION: Adult language is included in linked post.  To my school teacher and parent friends, if you are sharing this with your kids, read quietly first and edit a wee bit for your audience.)

May you be filled with joy!
Interested in Talking to Others Participating in the Challenge?
Join the Webinar
Wednesday, 13 December 2PM (US East Coast Time)  OR
Thursday, 14 December 5:45 PM (US East Coast Time)
Webinar Dial In Information
There is no requirement to join the webinar.  Simply an option if interested!  
Date: December 14, 2017
Time: 5:45 pm
Activity Name: Inspiring Health + Happiness Around the World
Link: https://join.freeconferencecall.com/poe_wellness_solutions
Meeting ID: poe_wellness_solutions
Dial-In #: (641) 715-0632
International Dial-In #: Provided when you connect via the computer.
Access Code: 623234
You can join the Webinar either using your computer or phone.
Computer
Click the link above and your computer will connect to the meeting.  (You do NOT need to download any software to join this meeting.)  Follow instructions for connecting audio.  If instructions do not appear, click the picture that looks like a telephone and select to either connect via the telephone or your computer.
Telephone
Dial the number above.  Enter the Access Code above when requested.
Did you join The Challenge late?  No worries.  All Daily Inspirations are available here. 
Got Questions or suggestions to help others?  Contact me or type a Comment below!!!  Let's Inspire Health + Happiness Around the World this December.