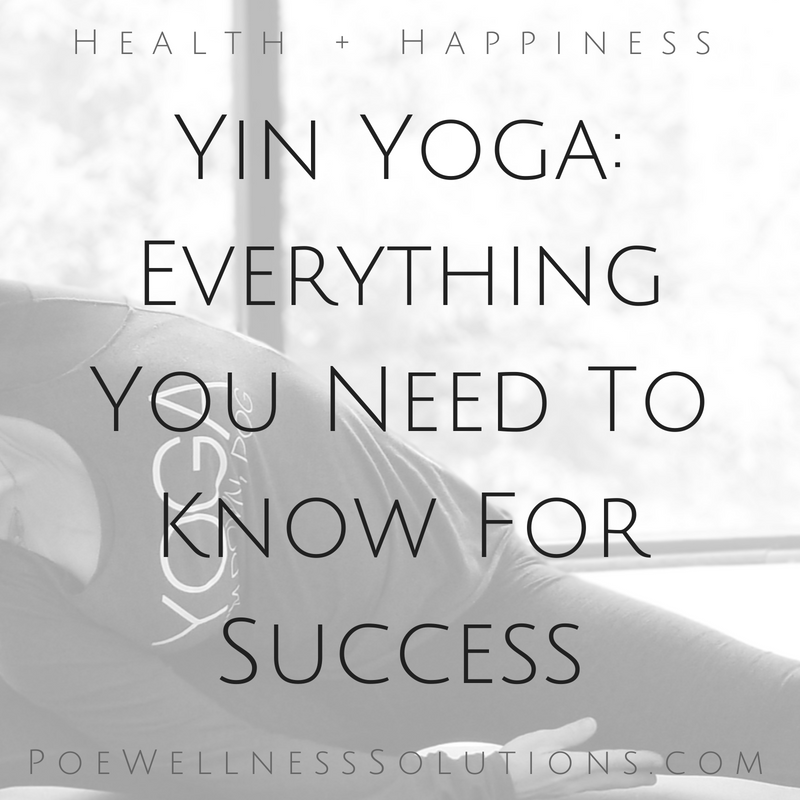 The purpose of this post is to give you the basics on Yin Yoga.  Everything in the the post is either from my experience (teaching and practicing 100s of hours of Yin) or the stories of Yin practitioners.  My goal is to keep it concise and provide a good, quick, basic understanding.  The best way to know if you would enjoy a Yin practice is to give it a try.  Find a class at a studio or online.  A few resources are provided at the end of the post.  For the purpose of this post, I am considering "the experts" to be the students.  They may be your neighbor, your coworker or your friend.
What Is Yin Yoga?
To explain yin, it helps to understand yang.  Yin and yang are Taoist concepts.  Yin is the stable, static, hidden aspects of life and yang is the changing, dynamic, revealing aspects.  The two coexist and are relative.  Everything can be described as yin and yang ~ the day, the seasons, your attitude,  your yoga, etc.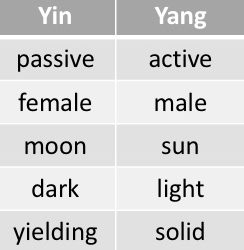 Yin Yoga consists of longer held, supported poses. The focus is on relaxing the muscles and creating a gentle traction to the connective tissue (ligaments and fascia).  It looks like a deep stretch class but there are a few key aspects unique to the Yin approach.
 Come into the shape/pose. 
 Wiggle around a bit.  (Explore the pose.)
 Find your edge.  (The place where you feel a little tension/resistance/sensation.)
 Build a fort for support.  (Is part of your body "hanging" and creating muscle tension?  Support your bones so your muscles can release and maintain the edge.)
 Hangout awhile.  (3-10 minutes – You may have to work up to that.)
 Let go.  (Encourage yourself to "melt".  Feel tightness?  Replace it with ease.)
Who Should Practice Yin Yoga?
When I first started teaching Yin, I offered a month of free Yin classes.  Offer free yoga and people attend.  Yogis, runners, walkers, couch potatoes, friends, family, all types and levels of stress, energy, health, body type, age, jobs … everyone showed up.  I learned lots that month.
Everybody should practice Yin Yoga. (NOTE:  If someone is hyper flexible with extreme joint mobility they may prefer a more strength-based type of yoga.  I would recommend giving Yin a try for all the other benefits.)
Yin Yoga impacts stress level, flexibility, energy level, attitude, emotions, body aches, and ability to sleep.
Yin Yoga is a gateway to strengthening mindfulness and creating a formal mediation practice.
You develop a mind-body awareness beyond expectation.
What you learn and do on your mat will carry over into your life off the mat.
No one is too inflexible for Yin Yoga.  Everything can be modified!
Runners and cyclists experience a love/hate relationship with Yin.
Yin and yang are in us all and we have to find our balance.
Someone always falls asleep and that is ok.
What Is Needed To Practice Yin Yoga?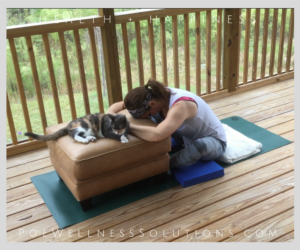 There are instructors that do not use props in a Yin class.  I am all about the props.
In my personal practice, I find that the better my body is supported (while maintaining my edge) the more the muscles can relax.  As the muscles release, I let go of tension and really notice the benefits of my practice.  You can spend money on fancy props (bolsters, blankets, blocks, straps) or you can use what you have in your home (pillows, cushions, books, your cat).
Yin Yoga From The Experts
Thank you to our experts for sharing their Yin insights. Here is a bit of information about your responding experts.
Age Range: 28 – 70 years
Number of times to practice per week:  Ranged from less than once to more than twice
Duration of practice: Ranged from less than 6 months to greater than 2 years
Careers: Researchers, Massage Therapists, Trainer, Retirees, Professors, Teachers, Scholar, Preschool Teacher, Volunteers, Studio Manager, Entrepreneurs
Expert Summary: A wide-range of people practice yin yoga and their practice varies
How Would You Explain Yin Yoga To A Friend?
It's a form of yoga where you hold asanas or positions for 3-5 minutes, and where you use props to cushion the position so that the muscles can relax more and the fascia and tendons are stretched.
A relaxing way to achieve a position, going to your "edge" and then taking time to explore where you can and can not go with the position and liking it!
Yin Yoga is a meditative practice. It is a great opportunity to truly listen to and "feel" your body.
Supported poses similar to restorative yoga but you push the pose just to a point where you feel any more would be uncomfortable.
If yin yoga were a side dish it would be mashed potatoes. Warm, melty, comfortable, good for your soul and makes me happy.
Yin Yoga is a relaxing practice to stretch your body and feel better
Deep Stretching
Relaxing
Yin is a beautiful antidote to life.
It is about being able to relax deeply into a pose, so deeply that you find ways of being in a pose that speak to your body very differently than when you move more quickly.
Yin yoga feels good and does amazing things for my body. My muscles are able to stretch in a safe and controlled manner. The class gives me a scheduled time to focus inwardly on my own body and to check in with any problem areas. I have grown mentally, physically and emotionally while practicing Yin.
What Do You Enjoy About Yin Yoga?
I love the part about being supported during a pose, so there is very seldom a feeling of overstretching & I can relax the "gripping" that I often find myself doing in a pose.
Yin Yoga has given me the space to relax and meditate which can be hard for me otherwise.
It makes me sit still and be in my body for a chunk of time and is just challenging enough to keep me from falling asleep.
It makes me feel really good, helps with joint pain.
Learning to balance my active, driven self and my still, compassionate self.
Eases my joints.
Yin yoga gives me a deep sense of stretching and relaxing at the same time, and without any strong sense of pain or discomfort.
The time spent getting into a position, maintaining it, and then coming out of it is mind mellowing for me. No rush, just experimenting and accepting where you are.
Guided stretching – I like that we hold the poses longer. Taking time to set up for a position and easing into it. Continuing to let go and release multiple times over and over again. Also, love the props and alternative positions for bigger bodies.
 My body melts like butter once I get into a pose…except when it doesn't and that is when I know I have an area that needs extra love and attention. It is a scheduled time when I am doing nothing but paying attention to me!
Entire experience!
How Have You Benefited From Yin Yoga?
As a very active person Yin Yoga has been very restorative. Holding poses for extended amounts of time has helped stretch my muscles and alleviate soreness.
I realized I need to find time for stillness.
Feel more relaxed, but again I am just beginning.
I can transfer the lesson of "letting go in safety and support" to all sorts of aspects of my life.
I am very active as a runner and power yoga student.  The letting go and improved range of motion has allowed me to run back pain free and practice poses I could not do previously (even arm balances).  It's kind of crazy to me.
Mentally, spiritually, and physically. I don't feel as stressed out in my day to day life. Also it is helping my flexibility in legs and releases tension in back.
I better understood  my body.
Yin yoga has given me greater flexibility than other yoga I have done, and the sense of relaxation and well-being are wonderful.
I am more limber physically and maybe mentally as well. It has taught me the value of stopping and of listening. I feel stronger and more in tune with my own body.
I do feel more flexible and more accepting of my limitations, knowing "props" are readily available.
Stress reduction, enhanced flexibility.
What Challenges Do You Experience In Yin Yoga?
I like the edge but I have tendency to push too far. My mind is a very busy. Challenging to be still.
Keeping my mind away from lists and problems while in a pose for a period of time.
Oh my. Sometimes I find that after clearing the first "layer" of gripping and holding, there are new layers underneath I didn't know existed. For this reason, if I've been really stressed out and busy, sometimes I feel more stiff and sore at the end of a class than at the beginning, but I find that after a bit it all loosens up, and I feel much better.
I am not able to do everything, as I have a herniated disc, and I am being quite cautious
Sometimes staying awake because I am so relaxed and letting go of anything that does not serve me on the mat.
Flexibility
To learn how to relax to some extent, particularly the muscles involved in the pose, is a challenge.
Slowing down to hold the poses for a few minutes.
Committing to find the time to do it…it's hard to carve out time to be still.
While I enjoy Yin Yoga very much, it can be a challenge to clear my mind and stay in poses for an extended amount of time.
To practice in a constant way.
Slowing down to hold the poses for a few minutes.
How Have You Been Surprised By Yin Yoga?
More relaxing than I anticipated.
How fast the class goes! How when pushing myself to an edge of each pose, I find I can do more after a minute.
Although I find the class relaxing, I always have more energy after a Yin class.  I usually go home and clean house.  I know that sounds silly.
Finding I really enjoyed it. I honestly thought it would be a waste of time, but it was so genuinely rewarding, relaxing, challenging, and centering.
Stretching in a more natural and relaxing way.
I learned for the first time how my body will adjust to the stretching strain of a position and the edge of discomfort will disappear. This enables deeper stretching and greater flexibility.
The calming effect and non competitive approach can be so different than "regular" yoga.
How long an exhalation can last.
I am always surprised by how much tension I am carrying. I think that I have "relaxed" and then I realize that, no, I'm still holding myself up and hanging on to stuff.
The aha moments or things that come into my mind when being quiet and still. The biggest surprise is how my body craves yin and I notice I am more angsty if I have not practiced for a while.
I am a strong and flexible woman!!! Extra LB's aren't keeping me from reaching goals like getting stronger and more limber!
Time flies!
Anything Else You Believe Would Be Helpful For The Reader To Know?
I live a very active lifestyle and generally enjoy vigorous workouts but Yin Yoga is one of the best parts of my week.
I try to do it at home too but prefer the encouragement of being in class.
I am a beginner.
I started a Yin Yoga practice during one of the most difficult times in my life and I believe it helped me to better manage my stress and pain. Now I can't imagine living a life with out it!
I found yin yoga to be significantly different from other forms of yoga, but different in a very good way.
With a bit of arthritis creeping in, yin yoga seems to help me stay flexible and stronger with a safe practice.
Yin yoga is for every body type, any age, and no experience is required. It is good for folks regardless of athletic skills or interest. Yin yoga is not intimidating or aggressive. It is a gift you can give your mind and body.
Summing It Up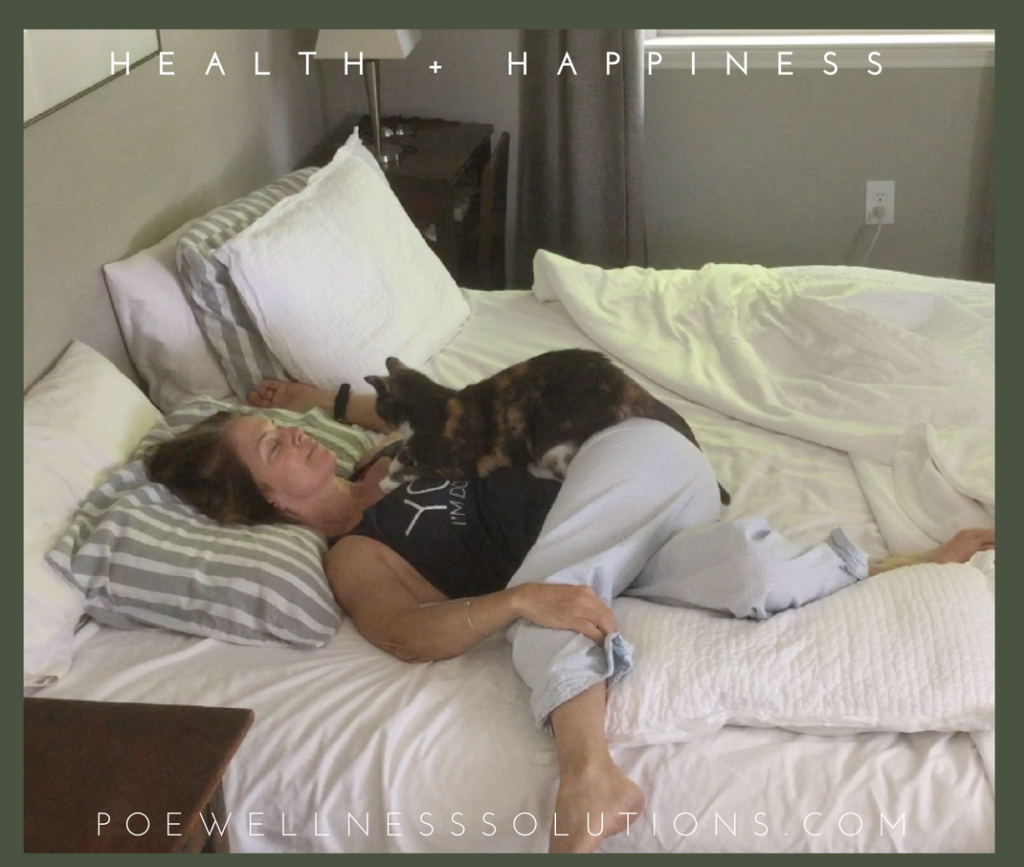 There are many benefits to Yin Yoga.  There is no special formula for the right age, body type, time or place to initiate or enjoy a Yin Yoga practice.   There is no guaranteed experience to each class or pose.  Often times after a pose, I ask the class "What did you notice?" Each person explains different awareness and sensations.
As several experts explained, Yin Yoga is different than other forms of yoga.  My advice, commit to a minimum of three classes.  Give your body and mind the opportunity to explore Yin and digest the experience.
Do you already have a Yin practice?  Do you have more questions?  Add your comments or questions below.  Share your experiences.  Learning from others is awesome!
Resources
As promised, here are a few of my favorite resources for Yin Yoga.
Detailed Explanation of Yin Poses ~ More Yin posts from me with pictures and step-by-step instructions.
~ Get Up On The Best Side Of The Bed – 4 Morning Yin Yoga Poses
~ Trouble Sleeping? 5 Yin Poses That Will Ease You To Sleep
~ 4 Simple Exercises To Melt Away Lower Back Pain
Great Yin Books
Try Online Classes – There are a variety of online resources that include Yin Yoga classes.  I have used and enjoyed both of these. 
~ Yoga International
~ Gaia Yoga
Fancy Props for Home Practice  – You don't have to purchase props for at home yoga.  I usually grab pillows and a blanket off the couch.  When I do purchase props, I am a big fan of Hugger Mugger.  The products are high quality and whenever I call, their team is lots of fun.  
~ Hugger Mugger – bolsters, blankets, blocks, straps, etc.
If you have questions, either add a Comment at the bottom of the post or scroll down even further and send me a private note.