When: March 22 – 24, 2019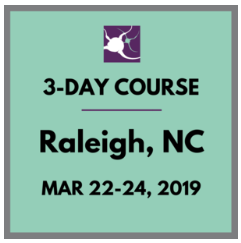 Where: Raleigh, NC
Sometimes you find a training that is too good to pass up. I am incredibly excited to take this course from The NeuroRehab Movement and look forward to sharing all that I learn with the Parkinson's Movement Initiative, Pilates for Parkinson's and Pilates Yoga Fusion classes and with all one-on-one Pilates and Yoga sessions. This is gonna be good!
Course Description
This 3-day in-person training will help you understand neurological disease and the principles and applications of neuromuscular rehabilitation and neuroplasticity in exercise.
The course covers the multiple sclerosis, Parkinson's, and stroke disease processes in depth, as well as issues common to many neurological diseases, including balance difficulties, weakness, muscle spasticity and rigidity, bladder problems, and gait abnormalities.
Since the course covers so many problems common to the average student, you will have tools to work with students of nearly every population, especially the aging, and those with neurological conditions or muscle imbalances.
Learning Objectives
• how to assess causes of balance problems
• how to work with single side weakness to create better muscle balance
• how to diagnose ineffective compensations and help remedy them
• how and when to stretch to manage spasticity
• techniques to create "detour circuitry" in the brain and spinal cord to work around existing nervous system damage
• … and much more!