Welcome to Day 5!

Goal: Send 5 Goodwill Wishes
Creating a new behavior is challenging.  That's what we are doing!  We are creating the new behavior of thinking/offering/wishing goodwill each day.  These daily emails are a great prompt for our new behavior.  Another strong support for behavior change is tracking or documenting completion of the behavior or activity.  It could be as fancy as a spread sheet or simple as hash marks on a sticky note.  Check out my tracking system below.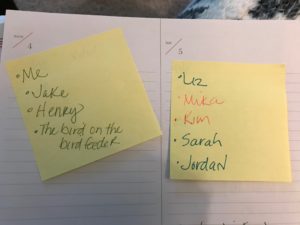 (NOTE:  Lots of people do not like tracking things.  It's not a requirement … just an idea.  Use it if it works for you!)
May your behavior change be inspiring!
Did you join The Challenge late?  No worries.  All Daily Inspirations are available here. 
Got Questions or suggestions to help others?  Contact me or type a Comment below!!!  Let's Inspire Health + Happiness Around the World this December.