Yin Yoga at Sunset ~ Summer Solstice 2019
Beginning: June 21, 2019
Time: 8:00 PM – 9:30 PM
Location: Santosha Space
200 North Churton Street, Hillsborough, NC, USA
Description ~ What to Expect?
Class begins at 8:00 PM with a bit of movement to transition from work-week to weekend, day to night, effort to ease, yang to yin.  Nothing too strenuous but an opportunity to wind down and settle in to the body.  The plan is to move from typically more edgy (i.e. dragon) to more melty (i.e. supported child's) yin poses, finding our way to a final restorative pose and savasana.   At 9:30 PM, we curiously experience both relaxation and renewed energy.  Ahhhh … balance. 
Explanation ~ Why Yin Yoga at Sunset on the Summer Solstice?
For what seems like forever, I have been a fan on the Yin Yang symbol.  It's simplicity in presentation and complexity in representation is all encompassing.  The symbol is continuously flowing from light to dark with a spot of each within the other.  It is all relative and never ending.  The more I think about it the more expansive it becomes and the more overwhelmed and wordy I become.
Recently (April 2019), I attended a workshop at the Asheville Yoga Center called Meridians, Pressure Points & the Five Elements.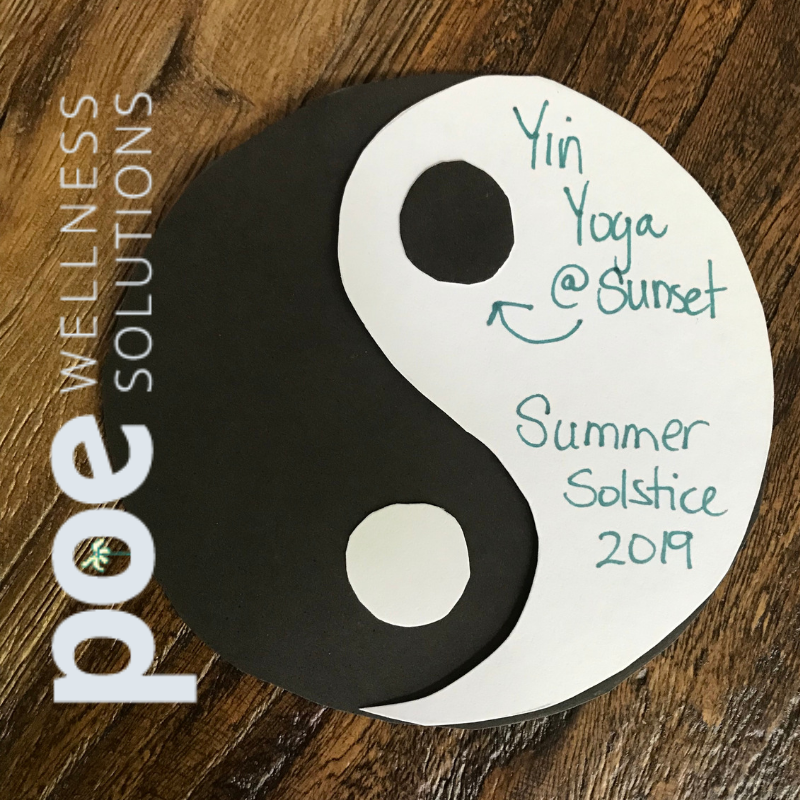 The instructor was amazing.  His yogic journey is incredibly different than mine.  He's travelled the world, studied with lots of yoga gurus and presents his ideas in a way that requires me to close my eyes and do my best to absorb all he shares.  I feel interested, enlightened, confused and a bit overwhelmed all at once.  He takes me on a journey and I mindfully sit and absorb.   I believe that if I was still sitting there, he could still be discussing/explaining the relevance of Yin, Yang and the symbol.  Amazing!
All that said, enjoying Yin Yoga at sunset on the Summer Solstice is like we are the little dark circle on the white side of the Yin Yang symbol.  The Summer Solstice is the longest day of the year ~ bright, sunny, hot, active, dynamic, energetic.  It is the moment when we begin our transition back toward the Yin phase of the year ~ dark, cold, passive, static, more restful.  Yin Yoga at sunset on the Summer Solstice welcomes the night (Yin phase of the day) on the longest day of the year (Yang phase of the year).
Yes, it is all relative and that is my interpretation of Yin and Yang at sunset on the Summer Solstice.  If you have a different interpretation, I'd love to hear it!  It's all relative and a discussion that could go on and on.
Cost & Registration
Registration is required as space is limited.  Click here to register and reserve your space. (NOTE:  The link may encourage you to download the Mind Body App.  It is not required! )
Early Registration (before 15 June 2019)
Cost = $20.00
Late Registration (after 14 June 2019)
Cost = $25.00
Learn more about Santosha Space.
I hope you will join me for Yin Yoga at Sunset ~ Summer Solstice 2019!  Got questions, contact me ~ meg@PoeWellnessSolutions.com.