---
Event Details
---
A unique combination of Integrative Health Coaching, Movement & Mindfulness. 
Empower yourself for healthy change through community support, movement, mindfulness and integrative health coaching.  This program empowers individuals and the group via a holistic approach to Health + Happiness and equips you with a creative, personal process for modifying health behaviors and habits.
Part 2 – Finding Your Flow
You created a strong foundation for lifestyle change.  What's next?  Take action.  After that?  Find your new flow.  To take action, you need action steps.  These actions steps must fit into your life with your schedule.  What are potential hiccups?  Let's anticipate and create back up plans.  Once you establish actions that align with your vision, you practice these actions day-to-day.  With two weeks between each session, live life, gather information and report back to the group.  In each session, we tweak our actions based on what we learned, where we discovered challenges and where we succeed.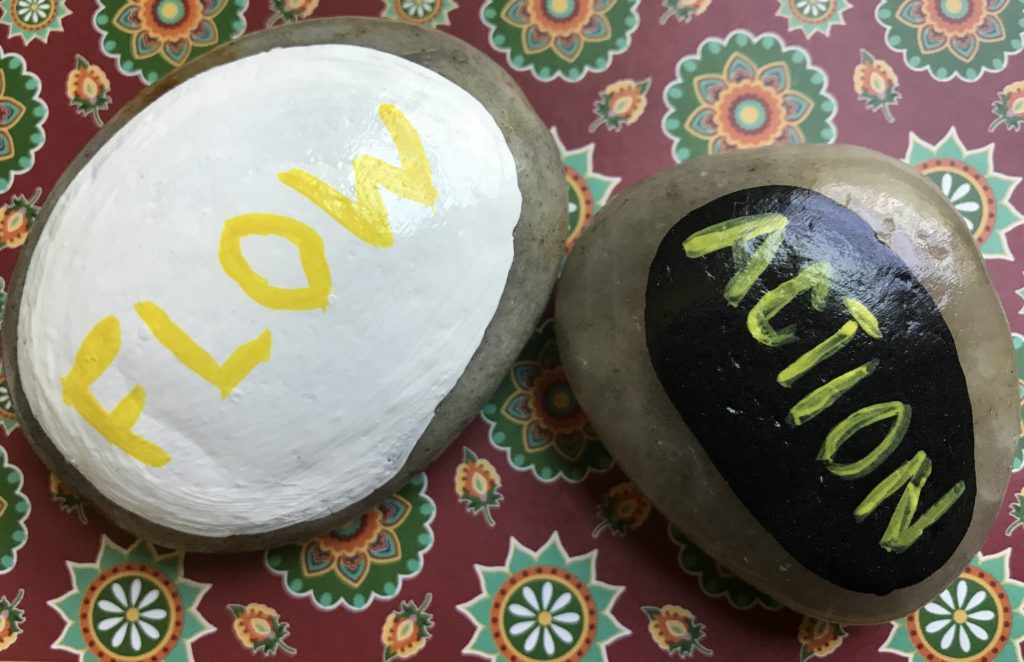 Session Theme
19 Oct – Action + Flow
02 Nov – Action + Flow
16 Nov – Action + Flow
*NOTE:  Sessions occur every-other-week.  Let's get our there, live life, try out our action plan and report back to the group.  Time for real life, real learning, real change and real success!
What You Get
Action plan that aligns with your lifestyle and demands
Creative-design sessions to rework action plan
Exploration of lessons-learned
Celebration of successes
Supportive community to stay on track
Lifelong process for future change
One optional private coaching session included
Group discussion, sharing and accountability is powerful!  What went well since last session? What was a challenge?  How could you modify your action plan to better fit your life?  A-ha moments arise from what you share and what you hear.  Although there are no "requirements" to share, you may discover through movement and mindfulness that sharing (both listening and speaking) is a powerful tool for finding your flow.
Investment and Registration
Investment In You = $200.00
The Mothership is managing event registration.  Click here.
Register before 31 August and receive 15% discount.
Members of The Mothership receive 25% discount.
What's Meg Say?
Consider these creative-design sessions.  No one is expected to have the perfect design.  Biggest risks in this stage of change are: (1) simply not taking action and (2) "beating yourself up" about progress.  We seem to have a huge fear of failing so if we don't take action, we can't fail.  When we do take action, if the result is not perfect, we become negative.  Each session we address challenges, successes, fears and lessons-learned.  We confirm this is what we want, tweak our actions, provide support and learn from each other.  Through movement, mindfulness and Integrative Health Coaching, we find our flow and celebrate success.
Need To Know More?
Scroll to the bottom of this page and send me a note or visit the Workshop page and review testimonials from participants.