These FREE webinars offers exercises to encourage paying greater attention to your life.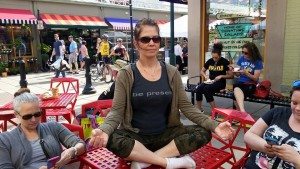 The inspiration for our program is Dr. Jan Chozen Bays, How To Train A Wild Elephant & Other Adventures in Mindfulness.  She explains the activities as mindfulness "seeds", seeds to plant and grow mindfulness in the many nooks and corners of your life, seeds you can watch as they grow and bear fruit each day.
Webinar Details
Purpose:  Enjoy learning with a group of like-minded people as we gradually become present and aware for more and more moments of the day … Wake Up To Your Life!
Who:  Anyone interested in living a more engaged and awake life.
When:  New exercises are introduced every other week.  Each exercise is presented at two different times in attempts to accommodate varied schedules.   Session times and days may vary from week to week.  Registering for the webinar provides access to scheduled webinars.
Where:  Webinars are conducted via the convenience of your computer or phone.  Access information included with each session.
How:  Each session includes group discussion and lessons learned from the exercise presented at the previous session.  After group discussion, the exercise to be practiced for the next two weeks is introduced.
Register Now
It is never too late to start attending.  When it works for your schedule, join us!  To register, simply look to the right side of your screen (scroll below on mobile devices). Select the button CLICK TO REGISTER.  Are you ready to have fun slowing down the chaos?  Get involved today!
6 Benefits of Mindfulness according to Dr. Bays
Conserves Energy
Trains and Strengthens the Mind
Good for the Environment
Creates Intimacy
Stops Our Struggling and Conquers Our Fears
Supports Our Spiritual Life
… more details to be filled in!
Would you like to Wake Up To Your Life?  How would your life change if you were paying more attention and less distracted?