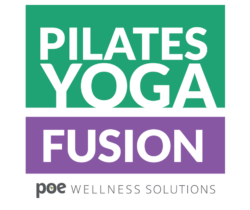 Crazy times call for crazy solutions! While we are all social distancing and enjoying a little time at home, let's keep moving and enjoy our Sunday & Wednesday friends. Check out all you need to know to live-stream Pilates Yoga Fusion until we are able to be together again. PLEASE let me know if you have question. Hope to see you soon!
Joining Class
Locate the date (in the table below) you want to attend a live-streaming Pilates Yoga Fusion class.
Click the link beside the date.
You may be prompted for the meeting code (maybe not).
Enter your name if requested.
NOTE: Depending on your computer and your previous experience with Zoom, joining class may be different than what I described. You may be prompted to open or download Zoom. Go for it! As you dial in, if you have a different experience, add it in the comments at the bottom of this post. Maybe you can help someone else successfully join class.
Sunday Classes
This meeting link was updated beginning 16 May 2020. Things may be set up differently since the last time you joined class. Take a deep breath and good luck. <3
Wednesday Classes
This meeting link was updated beginning 16 May 2020. Things may be set up differently since the last time you joined class. Take a deep breath and good luck. <3
Paying for Class
My goal is to keep this simple. Thank you to those that gave me input about the smartest way for me to do this.
UPDATE TO CLASS COST: We are excited to offer live-streaming classes while sheltering in place. Beginning, Sunday 12 April, the COST per class shifts to "buy one class at full price and get the next class half price". This allows you to pay the same rate for your class Pass Card or Drop-in and to receive a 25% discount as you continue to attend classes.
ADF is closed to classes until at a minimum June 2020. As long as we do not have our studio space, we will live stream Pilates Yoga Fusion classes on Sundays and Wednesdays.
If you purchased a class pass card, the class will be deducted from your card just like when we are at ADF.
If you prefer to Drop-In and pay as you attend, click here to learn about class prices and purchase your class. First class is free. Check us out. Hope you enjoy!
If you are unable to pay at this time, enjoy class and pay as you can. (I am serious about this. Just send me an email ~ meg@poewellnesssolutions.com.)
Practicing at Home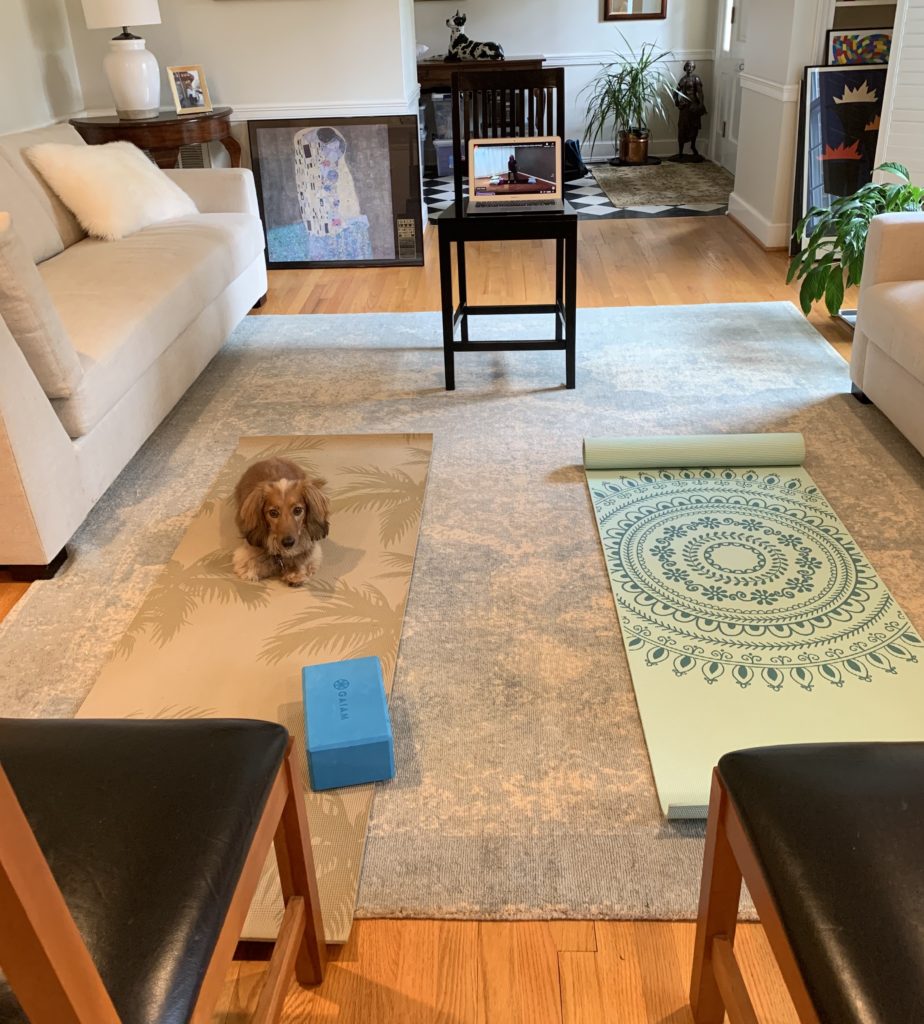 I've received positive feedback from the Yin Yoga and Explore Your Core classes I've been live streaming at Santosha Space. Here are a few things we've learned:
Dial in early. Technology is amazing and can be very frustrating. Join early and then do other things until class begins.
Set up your space ~ good lighting, props, music, etc.
If you know you like props, here are a few suggestions.

Pillows
Towels
Blankets
A Chair
A wall or doorway
A mat is not required
Be creative!

Consider the floor surface. A cushy carpet is great when you are rolling around and can create a very frustrating balance situation.
Music – I cannot use music at the studio. It sounds icky through your audio. If you like music, play it where you are.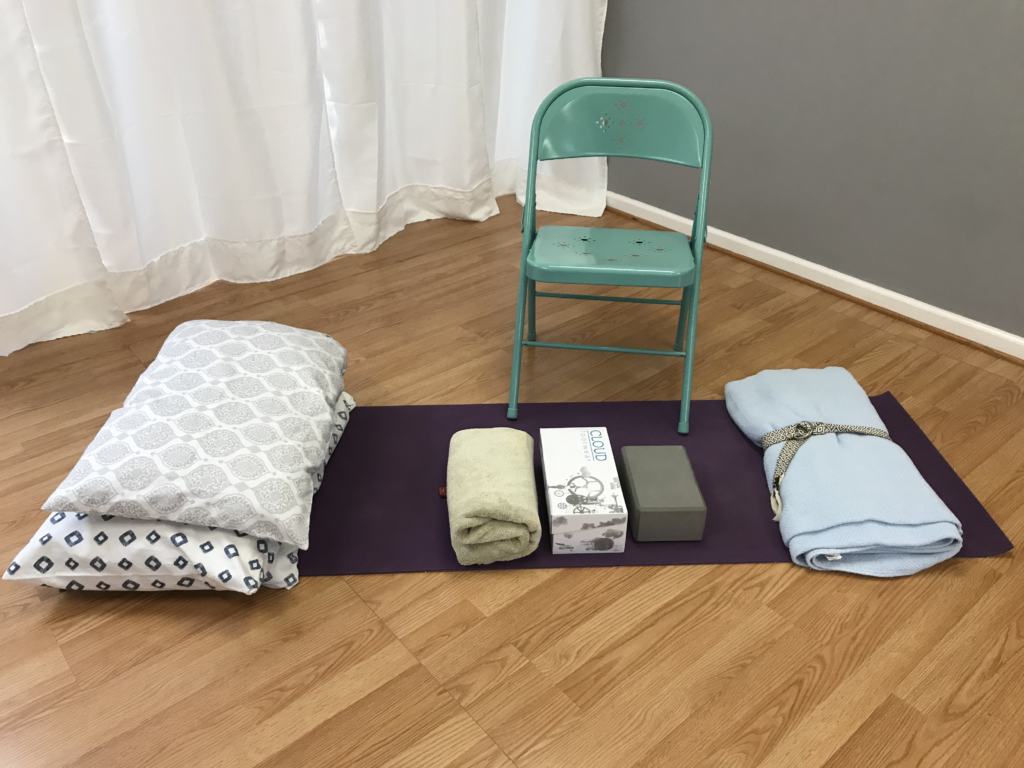 Let's do this! Hope this goes smoothly for us all. Look forward to hearing your feedback and to making this the best experience possible for all of us during this wacky time. Live-streaming Pilates Yoga Fusion is not what we expected but it may be exactly what we need!
Can's Make It To Scheduled Class Time?
If you can't make it to one of our classes, let us support you as you find ways to exercise at home. Subscribe to our YouTube Channel and get our newest videos as published. Click here for our YouTube Channel.